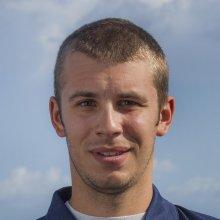 Russell Dauksis
Ocean Science/Mapping Intern
Graduate Student
California State University - Northridge
Russell Dauksis is a graduate student at California State University - Northridge, and is joining a fish ecology lab to investigate the effectiveness of new Marine Protected Areas in the Southern California rocky reef ecosystems. He previously has been involved in multiple coral reef restoration projects throughout the Caribbean, and hopes to have an impact on conserving these biodiversity hotspots that sustain our fisheries.
Russell Dauksis graduated from the University of Rhode Island in 2013 with a B.S. degree in marine biology.
"I am thrilled to be allowed to sailed aboard the Nautilus because exploring the unknown is such an amazing opportunity! The potential of discovering new communities is so exciting, and it can help us learn more about the unseen deep."
Expeditions
Russell participated in the following Ocean Exploration Trust expeditions: