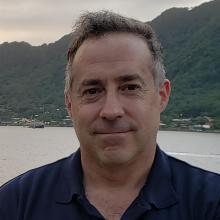 Russ Matthews
Co-Investigator Ashore
President
Air/Sea Heritage Foundation
Tell us about your work/research. What kinds of things do you do?
I'm a historian, filmmaker, author, and explorer specializing in aeronautical and maritime subjects. In addition to extensive archival work, I've spent a great deal of time in the field either leading or serving on expeditions from the Pacific to the Adriatic, locating, identifying, and documenting a variety of aircraft and shipwrecks. Not surprisingly, I have a particular interest and specialization in WWII naval aviation. I'm the the President and Co-Founder of the non-profit Air/Sea Heritage Foundation, which is dedicated to the pursuit and support of efforts precisely in line with the goals of NA154 and the planned Battle of Midway archaeological investigations within Papahānaumokuākea Marine National Monument.
What sparked your initial interest in your career?
For as long as I can remember I've been an avid reader, devouring books of true-life aerial history and nautical adventure like Ted Lawson's "Thirty Seconds Over Tokyo," Farley Mowat's "Grey Seas Under," and Walter Lord's account of the Midway battle, "Incredible Victory." Growing up, I was equally captivated by the screen exploits of Indiana Jones and the novels of Clive Cussler. News accounts of remarkable discoveries (such as tracking down planes for the (then) new Smithsonian National Air & Space Museum, the first dives to USS Monitor, and Dr. Ballard's explorations of Titanic, Bismarck, and, of course, USS Yorktown) made me realize that the physical remains from many of these epic stories were still out there somewhere in the real world and in the present day, just waiting to be found. I knew I wanted to be a part of that.
Who influenced you or encouraged you the most?
Easily the greatest and most positive influence on my life and career have been my parents, Edward and Marie Matthews. My late mother always encouraged me to dream big and pursue my passions. And every day my Dad demonstrates that with integrity and hard work you can achieve meaningful things for your family and your community, setting a standard I aspire to follow. Together they've supported me and inspired me to contribute something good to the world in my chosen field. I'm certain that, one way or another, both of them will be eagerly watching what happens on Nautilus this expedition!
What element of your work/study do you think is the most fascinating?
To my mind, the wrecks and relics resting beneath the world's oceans, lakes and rivers cast a unique spell all their own. They represent concrete, tangible links to the events of the past .. be they great, small, celebrated, mysterious or previously unknown. Coming upon an unexplored site and teasing out the clues frozen in those last moments is utterly fascinating and surely the closest any of us will ever come to traveling in time. The ability to share that experience with the public as it happens through the Nautilus Live program is a thrill and a privilege I find extremely gratifying.
What other jobs led you to your current career?
Among other things, I've worked as the senior researcher on television documentaries, written, directed, and produced historically set films, and co-authored scholarly articles and a non-fiction book. In between, I've served on the board of a non-profit educational foundation, been named a Fellow of the Explorers Club and ultimately co-founded the Air/Sea Heritage Foundation. It's been an exciting ride and I can't wait to see what comes next.
What are your degrees and certifications?
Bachelor of Arts (BA) in History -- Davidson College 1991
Master of Fine Arts (MFA) in Film – University of Southern California 1995
What are your hobbies?
I'm a certified diver and have also earned a private pilot's license, which certainly comes in handy when seeking our submerged aviation past. I also enjoy downhill skiing but haven't found a good opportunity to incorporate that in any expeditions (yet).
How did you get involved with the Nautilus Exploration Program?
I first had the privilege of working with OET (and our NOAA partners) in 2016, as part of the field science team for NA077. We conducted the initial exploration of the wreck of USS Independence (CVL-22), a WWII-era light aircraft carrier scuttled within the boundaries of the Greater Farallones National Marine Sanctuary. I served as the aviation specialist and had the memorable experience of identifying an historic plane wreck (a Grumman F6F-5N Hellcat fighter) INSIDE an historic shipwreck! Subsequently, I lead a 2019 expedition off Tutuila, American Samoa (NA111) in search of Samoan Clipper, a pioneering Pan American Airways flying boat lost in January 1938 (and hope to return in the near future with my Nautilus shipmates to finish the job). I'm always happy to join my friends and colleagues at OET and NOAA in supporting their important work and look forward to participating again from shore through the marvel of telepresence.
What advice would you give someone who wants to have a career like yours?
Always be reading, seeking, and learning. Search out primary sources (beyond the internet) and, where possible, get your hands dirty (or wet, as the case may be) out in the field. Most importantly, make friends with those who share your passions. I'm constantly learning and benefitting from the knowledge, experience, and efforts of my peers (MANY of whom are involved in this very expedition). They've made my own projects better and given me amazing opportunities to help them in return.
Expeditions
Russ participated in the following Ocean Exploration Trust expeditions: