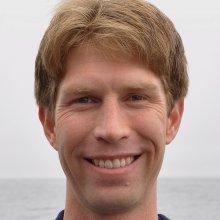 Ross Timmerman
Science/Data Team
Metadata & Data Curation Specialist
Ocean Networks Canada
Tell us about your work/ research. What kinds of things do you do? 
I support the metadata and data curation activities at ONC. Responsibilities include maintaining and verifying records for infrastructure, data sets and operations, and archiving a wealth of ONC data. 
What sparked your initial interest in your career?
Growing up near the ocean and taking an Oceanography course in high school.
Who influenced you or encouraged you the most?
High School oceanography and chemistry teachers, and Margaret McManus in college. 
What element of your work/ study do you think is the most fascinating?
I love the opportunities to work in the field and also like working with dive videos. 
How did you get involved with the Nautilus Exploration Program?  
I work with Ocean Networks Canada- an OET partner.
What other jobs led you to your current career? 
My former work with the Pacific Islands Ocean Observing System was a strong element of work experience when I applied for my current position in 2014. Responsibilities included deploying and maintaining instrumentation and telemetry throughout the Pacific, and assisting with database operations and data analysis.
What are your degrees and certifications?
Bachelor of Science in Global Environmental Science -- University of Hawaii 2007; Masters of Science in Environmental Science (Hydrology) -- University of Virginia 2014; Scientific Diver. My graduate work focused seasonal biophysical influences on sediment dynamics in a seagrass and an adjacent unvegetated site in the Virginia Coast Reserve.
What are your hobbies?
Surfing, biking, and snow skiing.
What advice would you give someone who wants to have a career like yours?
Get hands-on experience and specialize in a core science like physics, biology, or chemistry. Strong skills in basic science give you options to specialize later down the line.
Expeditions
Ross participated in the following Ocean Exploration Trust expeditions: