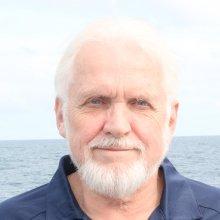 Robert Embley
Science/Data Team
Expeditions
Robert participated in the following Ocean Exploration Trust expeditions:
Selected Publications
2022
(2022).
Highlights from exploring and characterizing the Cascadia Margin methane seeps over the past 5 years.
2022 Ocean Sciences Meeting
2021
(2021).
Distribution of Methane Plumes on Cascadia Margin and Implications for the Landward Limit of Methane Hydrate Stability.
Frontiers in Earth Science