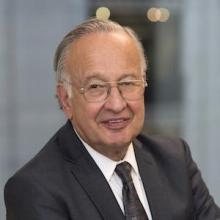 Robert E. Patricelli
Chairman of OET Board
retired health care executive
Ocean Exploration Trust Board of Directors
Tell us about your work/research. What kinds of things do you do?
As chair of the board, my job is to work with the board and senior management to support the mission of the Trust.
What sparked your initial interest in your career?
My career has been in business--health care services--but a long friendship with Bob Ballard sparked my desire to work with the Trust.
What element of your work/study do you think is the most fascinating?
Working on the evolving mission of the Trust and finding opportunities to link that with the environmental challenges we all face.
What other jobs led you to your current career?
Years of service in the federal government--on US Senate staff, Dept of HEW, and Dept of Transportation
What are your degrees and certifications?
AB, Wesleyan University; LLB Harvard; member, National Academy of Medicine
What are your hobbies?
Philanthropy and public policy
Expeditions
Robert participated in the following Ocean Exploration Trust expeditions: