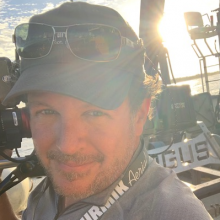 Rob Lyall
Director of Photography
National Geographic
Tell us about your work/research. What kinds of things do you do?
I'm a director of photography and have been working in factual television and film for over 25 years for a variety of broadcasters and organizations. While my work spans commercial, documentary and feature projects, I caught the documentary bug early on, and like to bring disciplines from all aspects of filmmaking technique into the world of documentary (and vice versa). Documentary projects range from culture, history, exploration and natural history, to climate and the environment, and social issues. I've worked in most parts of the world and have a small production company in Falls Church VA (The Biscuit Factory).
What sparked your initial interest in your career?
I liked the idea that I could merge storytelling and education, with an insatiable appetite for gadgets, wiring things, taking things apart and making clever rigs. I was also fascinated with lighting, and learned classic lighting techniques and applied them early on in theatre and photography. My first word was, "Lights." Need I say more?
Who influenced you or encouraged you the most?
My Parents. Both have dedicated their lives to education. Documentary filmmaking is similar - but with more travel.
What element of your work/study do you think is the most fascinating?
There are so many things in this business... travel, people you meet... sometimes it's just hiking up to a hilltop in the dark to film a sunrise and having the moment to yourself (Before you share it with millions of people in your film). But I'd say that the most fascinating aspect of this work is the immersion into the subject matter of every project, and getting into the detail of all the components of every story. And of course, the people you meet along the way. (And I love lighting... )
What other jobs led you to your current career?
I started off in theatrical lighting, with some small jobs in graphic design and photography, but I've been involved in filmmaking from the start.
What are your degrees and certifications?
BA in Film from Denison University
What are your hobbies?
Finding historically significant objects in the ocean.... wait - this job is PERFECT!
What advice would you give someone who wants to have a career like yours?
Practice. Study great works. Learn how to evaluate your work against other work you admire, and learn how to apply the difference to what you are doing. Get out on shoots - work with different people - learn their techniques. Then - be innovative. Always ask yourself how you can take the baseline of what you've learned, and apply it in ways that stand out, connect and inspire. Oh, and also - do this within the confines of the budget and schedule : ) - Good luck!