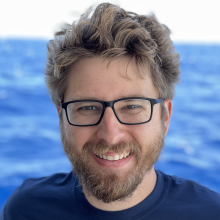 Richard "Rhett" Barker
He/Him
Video Engineering Intern
Recent Graduate Student
Montana State University
Tell us about your work/research. What kinds of things do you do?
I use film and social media to communicate with the public about ecology and to promote the conservation of natural resources. I also use new technologies to help solve conservation-related issues--for example, creating an attachment for newly available, cheap ROVs to allow them to recover lost fishing traps.
What sparked your initial interest in your career?
I've been interested in nature as far back as I can remember, and in helping to learn about and conserve natural resources and promote ecosystem health at least since I was about 10 years old. The world is a big, beautiful place!
Who influenced you or encouraged you the most?
My parents have been an unyielding source of support and good advice.
What element of your work/study do you think is the most fascinating?
The chance to explore, whether in searching for mountain lions on a film shoot in Montana or filming with ROV's in the Pacific, is the most exciting aspect of what I do.
What other jobs led you to your current career?
I worked as a wildlife field technician for a few years, first with small mammal surveys in southern Africa, then similar work in the southeastern US. Then I worked as a pocket gopher technician, which was a fun job because gophers are difficult to catch, and as a herpetological field technician, running approximately 650 reptile and amphibian traps in Ocala National Forest. From there I went to graduate school for natural history filmmaking. I just graduated, and am working freelance in the field now.
What are your degrees and certifications?
Bachelor of Science in Wildlife Ecology and Conservation -- University of Florida 2016
MFA in Science and Natural History Filmmaking -- Montana State University
What are your hobbies?
I like hiking, looking for reptiles, traveling, scuba diving, playing tennis, climbing trees, and creative projects.
How did you get involved with the Ocean Exploration Trust?
I learned about the OET from a friend who had previously done the video engineering internship. I applied and was accepted!
What advice would you give someone who wants to have a career like yours?
I'm not sure yet! I'm still figuring it out myself.
Expeditions
Richard "Rhett" participated in the following Ocean Exploration Trust expeditions: