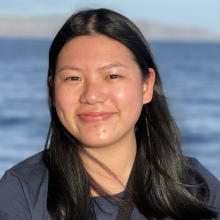 Rian Leung
She/Her
Video Engineering Intern
Recent graduate
Stony Brook University
Tell us about your work/research. What kinds of things do you do?
I graduated from Stony Brook University back in December 2018 with my Bachelor's of Science in Marine Sciences. Upon graduating a semester early I completed a 10 month AmeriCorps service term with Excelsior Conservation Corps and Student Conservation Association where I worked with the Education and Outreach Team. On that team, I traveled all across NY State working the Department of Environmental Conservation (DEC) and Office of Parks, Recreation, and Historic Preservation (OPRHP) conducting environmental conservation programs. In that term, I also worked as a conservation steward throughout NY State lands doing trail maintenance, new trail construction, invasive species removal and bridge-building on trails.
What sparked your initial interest in your career?
Throughout my life, photography and video work have been constant. During university, I did event photography and even applied videography into my research assistant positions with the School of Marine and Atmospheric Sciences with Dr. Emmanuelle Pales Espinosa. I am very lucky to have gotten the opportunity to receive a college education in marine biology so that I can have a deep-rooted understanding on sometimes hard to understand STEM concepts. I think it is equally as important to be able to relay those concepts in a palpable manner to everyday folks so that we all feel a responsibility to protect our lands and waters. I think there is no better way to do so than by creating films and conducting deep-sea exploration to get these messages across people from all walks of life.
Who influenced you or encouraged you the most?
The team I worked with at SBU Department of Student Engagement and Activities were really instrumental in supporting whatever endeavors we sought. My coworkers, supervisors and directors alike were extremely encouraging and really urged us to pursue our dreams. My AmeriCorps corps members were also extremely influential. Working with such a large group of like-minded individuals was a great motivation to continue to break into the field.
What element of your work/study do you think is the most fascinating?
In my AmeriCorps term, I was able to introduce families to their first experience and opportunity to feel connected to nature. Being able to see their faces light up with euphoria and knowing that you are able to inspire a new generation of conservationists is always thrilling.
What other jobs led you to your current career?
In my undergraduate career, I really wanted to gain experience and internships in all different fields to find my niche. I worked in the Department of Student Engagement and Activities, I was a photo video intern, research assistant, and at one point even one of the managers of their D1 Men's Basketball team. I was always willing to try new and unfamiliar things even if it meant balancing a hectic schedule. Having dived into so many different experiences in my formative years have provided me with soft and hard skills that have been imperative to each job I've held since. It has also helped me stand out in the job pool and always have an anecdote to bring to the table!
What are your degrees and certifications?
I have my Bachelor of Science in Marine Sciences from Stony Brook University 2018. I am also Wilderness Advanced First Aid (WAFA) certified and Youth Mental Health first aid certified.
What are your hobbies?
I love camping and anything that keeps me up and active. I also really love playing music. I grew up playing piano, guitar, and violin. Even though I am not very good, I will always be dancing and sing/screaming to a good song!
How did you get involved with the Ocean Exploration Trust?
I came across an OET stream on youtube and immediately knew I wanted to get involved in some capacity. Upon finding their website and seeing that they offered internships I quickly jumped at the opportunity.
What advice would you give someone who wants to have a career like yours?
The best advice I can give to someone wanting to get into this field of work is to not be afraid and ask for opportunities! If I had just seen that OET video and not been inquisitive to find out more, I would not be where I am today. Once in a lifetime opportunities will rarely land on your lap. Be proactive and ask for mentorships, ask shadow professionals in your field, and always yearn for more. The worse thing that can happen is someone saying "no" but there are so many opportunities at your fingertips as long as you're willing to put yourself out there! Good luck, I'm rooting for you!