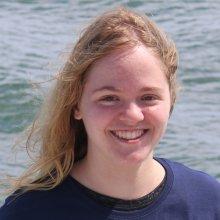 Rebecca Wipfler
Science/Data Team
Incoming Graduate Student
California Institute of Technology
Tell us about your work/research. What kinds of things do you do?
I am excited to be entering the Geobiology doctoral program at Caltech this fall as a graduate student! I hope to work on microbial research projects relating to deep-sea hydrothermal vents and astrobiology. As a recent graduate from the University of Illinois Urbana-Champaign, I studied an extremophilic archaeon called Sulfolobus islandicus. This microorganism lives in thermal springs around the world, including Yellowstone National Park. My specific research project focused on the surface layer of this microbe. In the lab, I study this organism under different environmental stresses and use electron microscopy to help determine the function of its surface layer. This research also involves field studies to Yellowstone, where I helped collect biological specimens from remote hot springs from around the park.
What sparked your initial interest in your career?
Since grade school, science has been my favorite subject, but I didn't know how to follow this interest until the summer before I started college. During this time, I completed an internship at a federal laboratory, the National Center for Agricultural Utilization Research (NCAUR). This is when I realized biological research was something I wanted to pursue, but I didn't know in what field. When I started at my university, I joined Dr. Rachel Whitaker at a NASA Astrobiology Institute to study an extremophilic microbe. I've always had an interest in life forms living in extreme and remote environments from watching nature documentaries and reading about expeditions in science magazines. I've loved and learned something every single day in this lab, and I'm very excited to continue to explore the world of extremophiles through opportunities such as the Nautilus.  
Who influenced you or encouraged you the most?
I've had the fortune to have two wonderful scientists influence my scientific career. I would like to first thank Dr. Martha Vaughan, a research scientist at NCAUR. Her passion and dedication to her work are contagious, and she was the first to express support for me to pursue a Ph.D. She showed me firsthand how science has the ability to make the world a better place and the importance of collaboration between scientists. I would also like to thank Dr. Rachel Whitaker at the University of Illinois, who has taught me how to stand up for myself, gives wonderful advice, and has supported my career in every way possible since I first joined her lab.  
What element of your work/study do you think is the most fascinating?
One of my favorite parts of my research at the University of Illinois is the field studies in Yellowstone National Park. There is nothing like hiking out into the wilderness to capture potential new and undiscovered specimens from the source. I also really enjoy how my research relates to the field of astrobiology, as understanding the limits of life on Earth will further our understanding of life elsewhere in the universe.
What other jobs led you to your current career?
I've done separate research internships at the NCAUR studying the synergistic effects of mycotoxins produced by fungus and at the Mayo Clinic studying neuroregeneration of the enteric nervous system. I also served as Course Assistant for the Microbial Diversity course hosted by the Marine Biological Laboratory for a summer, which strengthened my interest in environmental microbiology. I've learned something different from each experience that I would not have been able to learn anywhere else, and all have helped me determine that scientific research is the place for me.  
What are your degrees and certifications?
Bachelor of Science in Molecular and Cellular Biology: Honors - the University of Illinois at Urbana-Champaign, 2019; PADI Open Water Diver; Wilderness First Responder 
What are your hobbies?
I love to play percussion and soccer in my free time. I am also a huge Sherlock fan.  
What advice would you give to someone who wants to have a career like yours?
Don't be afraid to ask for advice and help for those around you - I've had a great support network throughout my scientific career and I wouldn't be where I am without it. If you want to do research as an undergraduate, I suggest joining a lab where you'll have the opportunity to have your own research project in a field you are or potentially may be interested in. Don't just rely on your classes for education; summer internships and the internet are great sources to learn about the world around you. And throughout, always be open to sharing your passion with others and sticking to what you enjoy most, as I've always believed you are happiest when doing something you love.
How did you get involved with the Nautilus Exploration Program? How did you get on the ship?
I was looking up videos on hydrothermal vents, a location where extremophiles can be found, and watched a video recorded by the Nautilus. I followed the video back to the source, the Nautilus home web page, and quickly found out about the Nautilus Science and Engineering Internship Program. I realized the possibility to participate in oceanic field research was something I would enjoy, and I applied for the Ocean Science internship in 2017. I've been happy to be back on the Nautilus every year since! 
Expeditions
Rebecca participated in the following Ocean Exploration Trust expeditions: