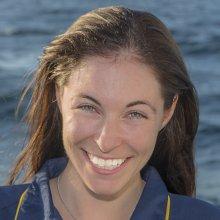 Rachel Rayner
Science Communication Fellow
Science Communicator
Discovery Science and Technology Centre
Tell us about your work / research. What kind of things do you do?
I create fun and educational experiences for students, teachers and visitors to the Discovery Centre. This ranges from experiments in a workshop, to designing and exhibit, to explosions on stage, to events on the science of chocolate. I design and facilitate these activities, whilst also training other staff members in presentation skills. I regularly collaborate with other science centres, museums, universities, schools, and educational organisations to develop programs to fit learning objectives with a variety of audiences. One of my recent favourites has been a workshop on sound - making simple instruments - to explore Science Technology Engineering and Maths (STEM).
What sparked your initial interest in your career?
I have just always loved finding out new things, and discovering new information. So much so that I just want to study everything! I went to university and studied art history, drawing, maths, English, French, physics and phonetics. Science communication is a great field as it means you have to research a variety of different things to make the content understandable to a large audience. Currently, I have been studying sports so I can write a science show ready for the upcoming Olympics. I've also written shows and workshops on electricity, marine biology, energy, chemical reactions, coding and more!
Who influenced you or encouraged you the most?
My high school science teachers were really fantastic at making science interesting. We could have really great discussions full of "what if...?"s. These days, TV scientists (both past and present) like Carl Sagan, Julius Somner Miller and Brian Cox keep reminding me how brilliant knowledge and curiosity, especially in the area of science (read: physics) are to lots of people.
What element of your work / study do you think is the most facinating?
It is seeing the looks on people's faces when they finally understand something for the first time. I remember showing an audience how electricity is generated with a copper coil, some magnets and an LED. I don't know if I'll ever forget the stunned amazement on this woman's face - right in the middle of the audience - as she saw just how a major component of our everyday lives is created.
What other jobs led you to your current career?
I have had a variety of jobs, and I worked for many years in retail and hospitality. I value this experience as it taught me how to connect with people and understand their needs very quickly. This is so useful when presenting shows and workshops - I lean on this skill to read an audience and pitch my presentation accordingly. I think you learn from every job and every subject you study, though what you have learnt may not always be initially apparent!
What are your degrees and certifications?
Bachelor of Liberal Studies in Art History and Physics - University of Sydney 2010; Graduate Diploma in Science Communication - Australian National University 2011.
What are your hobbies?
I am an avid dancer, and was part of the performing swing dancing troupe in Canberra: the Canberra Swing Katz. I like drawing, writing, and going to the theatre - though I never do any of these enough.  
What advice would you give someone who is interested in a career like yours?
The field of science communication is broadening almost daily! In science communication it is all about how the information is conveyed and how the story is told. I would start reading and listening to podcasts - what science articles and stories do you like, not like, and why? Watch editions of Carl Sagan, David Attenborough and Brian Cox talking science. What do you enjoy about them, how could they have held your interest better? Visit your local science centre, museum or university and talk to the people there about what they do, what they like about their work and how they got there. Universities are beginning to run dedicated science communication courses. If not, pick your favourite subject and start communicating why you like it so much!
How did you get involved with the Nautilus Exploration Program? How did you get on the ship?
I applied to be an SCF after working indirectly with Lloyd Godson - an amazing science adventurer - when we beamed him in through telepresence to inspire students working on an engineering challenge. Lloyd was an SCF that year, and encourage me and my colleagues to apply.
"I am thrilled to be involved with the Science Communication Fellowship program this year! It is a great opportunity to inspire future researchers, educators and explorers from regions of Australia where students have little exposure to marine research and science as a career path. I'm also excited to see behind-the-scenes of leading research and peer into the murky depths of the unknown."
Expeditions
Rachel participated in the following Ocean Exploration Trust expeditions: