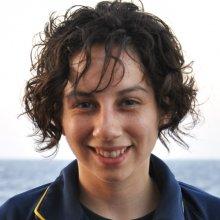 Rachel Gaines
Hercules Pilot
Student
University of Southern California
Rachel Gaines is working towards her degree in electrical engineering with a focus in robotics and electrical systems designs. This is her fifth season onboard the E/V Nautilus; starting off as an engineering intern, this will be her first season as a Hercules Pilot.
Rachel graduated from the College of Santa Fe with a bachelor's in Contemporary Music in 2009, worked as a wildland firefighter for three years, and then interned on the E/V Nautilus in the fall of 2011. After that experience, she returned to school and is expected to graduate with her second bachelor's in electrical engineering from the University of Southern California in 2016.
"I love participating in oceanic research through the use of underwater robotics."
Expeditions
Rachel participated in the following Ocean Exploration Trust expeditions: