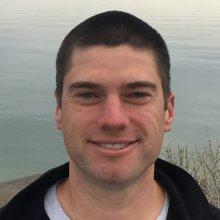 Philip Hartmeyer
Co-Investigator Ashore
Marine Archaeologist
NOAA Ocean Exploration/University Corporation for Atmospheric Research
Tell us about your work/research. What kinds of things do you do?
As the lead for NOAA Ocean Exploration marine archaeology, I help achieve the program's mission to explore the ocean for national benefit through an underwater cultural heritage (UCH) lens. This includes working with partners to understand and submit UCH priorities in all geographies for future NOAA Ocean Exploration operations, managing archaeology-focused external competitive grants funded by our program, ensuring program activities meet mandated archaeology legal compliance, mentoring students, developing and delivering materials for public and professional audiences, and fieldwork.
What sparked your initial interest in your career?
I was acquainted with my first mentor in maritime archaeology, Jim Allan, in high school during an independent study course designed to give students real-world experience in a career of their choosing. I was hooked after that internship and followed in his (and others) footsteps through graduate school, and into the field.
Who influenced you or encouraged you the most?
Professors and colleagues past and present continue to encourage the my career trajectory. Much of my inspiration comes from folks pushing technological and social boundaries, challenging history, and rewiring how we approach understanding the past.
What element of your work/study do you think is the most fascinating?
Partner work to develop community-led underwater cultural heritage exploration and research priorities has been a highlight of late. Only together can we fully understand the archaeological landscape to inform future program priorities and operations and community direction. NOAA Ocean Exploration and the Ocean Exploration Trust are case studies of this done well.
How did you get involved with the Ocean Exploration Trust?
I've had the pleasure of participating on past Ocean Exploration Trust missions in the Great Lakes, and now am serving as a Lead Archaeologist Ashore for NA154. This important mission documenting Battle of Midway underwater cultural heritage brings in many partners including funding agency NOAA Ocean Exploration via the Ocean Exploration Cooperative Institute, SEARCH Inc., NOAA Office of National Marine Sanctuaries, Defense POW/MIA Accounting Agency, Air Sea Heritage Foundation, Bureau of Ocean Energy Management, and many others.
What other jobs led you to your current career?
Beginning after I earned my BA, I spent 10 years working at NOAA's Thunder Bay National Sanctuary in various capacities including Maritime Archaeologist and Unit Diving Supervisor after seeing a Thunder Bay poster on the wall at the archaeology lab I worked at. Take chances, and say 'yes' as much as you can.
What are your degrees and certifications?
Saint Mary's College of California - BA Anthropology/Archaeology 2011
East Carolina University - MA Maritime Studies and Maritime Archaeology 2014
What are your hobbies?
My two boys keep me busy, and they're usually game to help in the woodshop, on our boat, and in the woods.
What advice would you give someone who wants to have a career like yours?
If you're interested in marine archaeology or heritage preservation, reach out to the institutions and professionals doing this kind of work. Ask questions, say 'yes' to varied opportunities, and stay curious. Finding early mentors is a great way to make connections in the community, and learn of skill-building opportunities.
Expeditions
Philip participated in the following Ocean Exploration Trust expeditions: