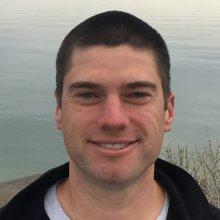 Philip Hartmeyer
Science/Data Team
Maritime Archaeologist/Unit Diving Supervisor
Thunder Bay National Marine Sanctuary
Tell us about your work/research. What kinds of things do you do?
My area of expertise in archaeology lays beneath the waves in the myriad of submerged cultural sites I help to research and manage as a maritime archaeologist at NOAA's Thunder Bay National Marine Sanctuary. Summer is our principal field season in the Great Lakes. I work with our team conducting remote sensing surveys to characterize the underwater environment and expand our knowledge of its habitats, geologic formations, and submerged cultural resources. I lead Thunder Bay's dive unit which conducts scientific diving to support the missions of our sanctuary, our program, and a variety of partner institutions. Our unit accomplishes these objectives using a variety of different diving methods and technologies. During the winter, I can be found writing archaeological reports like National Register of Historic Places nominations and preparing our team and equipment for upcoming fieldwork. 
What sparked your initial interest in your career?
I was acquainted with my first mentor in maritime archaeology in high school during an independent study course designed to give students real-world experience in a career of their choosing. I was hooked after that internship and followed in his (and others) footsteps through graduate school, and into the field. 
Who influenced you or encouraged you the most?
Jim Allan brought me under his wing while I was studying at St. Mary's College, and inspired me to dedicate my academic and professional efforts into this exciting field. 
What element of your work/study do you think is the most fascinating?
Most of the waters in the Sanctuary system remained unexplored. I yearn for the opportunities to use new technologies to better understand this frontier. 
What other jobs led you to your current career?
I met my first mentor, Jim Allan while parking golf carts at a country club back home in California. That job helped me get through college, and introduced me to the field that I've been in ever since. 
What are your degrees and certifications?
Saint Mary's College of California - BA Archaeology 2011
East Carolina University - MA Maritime Studies and Maritime Archaeology 2014
What are your hobbies?
I enjoy woodworking and exploring the outdoors. 
How did you get involved with the TBNMS work with OET?
I will be assisting the science teams in remote sensing data interpretation, and serving as a relief captain for RV Storm and operator of R3011. 
What advice would you give someone who wants to have a career like yours?
Ask plenty of questions, and pursue the interests and places you find most fascinating.