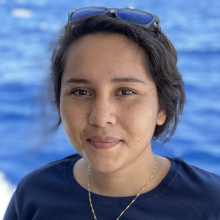 Pheona David
Ocean Science Intern
Undergraduate and Coral Restoration Technician
University of Guam and Division of Coastal Resources Management
Tell us about your work/research. What kinds of things do you do?
As of right now, I currently work as a technician for our coral restoration program along with the marine monitoring team which are both under the government office of the Division of Coastal Resources Management. With regards to coral restoration, my team and I work to locate and mark healthy reef patches within the lagoon that are then used for us to collect healthy and resilient fragments that we can bring back to the nursery. At the nursery, we work to maintain the coral trees as well as monitor the growth of the collected coral fragments on a bi-weekly to monthly basis. As for marine monitoring, we visit various sites throughout the CNMI and collect benthic data that are then analyzed back at the office using a program known as Coral Point Count and Excel Extension. Not only do we collect benthic data, but we do work to collect invert data, coral diversity, and use of photo mosaics.
What sparked your initial interest in your career?
As cliché as it sounds, I've always had a passion for ocean life and understanding the dynamics of everything going on there. I find it very interesting that a place on Earth is just as alien to us as the many planets in the universe and that there is so much more to explore and discover.
In addition, the ocean plays an important role in the livelihood of our people, and considering recent events regarding climate change, I feel its important to understand how it's affecting our reefs now and what we can do to prevent less damage. But what really has sparked my interest in this particular field was when I started off as an intern for the very same office that I work for now. I was selected to be the Marine Monitoring Intern back in 2018 and after following them out on their many trips and experiencing the beauty of our islands, it made me more passionate about protecting and conserving it a lot more. Enough to make it a lifetime career.
Who influenced you or encouraged you the most?
My mentors from when I had interned at DCRM. Seeing what they do and how they do it inspired me the most to pursue this kind of career. And my family and friends of course. The same people would send me various links to conferences and internships regarding marine conservation.
What element of your work/research do you think is the most fascinating?
The fact that I get to travel to places that are not seen by many and experience wildlife that has had little-to-no human interaction. And also, just learning the cultural and historical importance of these places. After reading more about Hawaii's northern islands and their significance to its people, I became much more excited about this trip.
What other jobs led you to your current career?
Other than my job now and the internship I had previously mentioned, I hadn't worked at many other offices that pertain to environmental conservation or research. Although, I did work in other areas that enhanced my interpersonal skills, communication, and public speaking which come in handy when it comes to education and outreach
What are your degrees and certifications?
Associates of Arts in Liberal Arts -- Northern Marianas College 2019; Associates of Science in Natural Resources Management -- Northern Marianas College 2020; Open-water, Advance, and Rescue Diver
What are your hobbies?
Outdoors, I enjoy a lot of water activities such as swimming, paddle boarding, and diving. I also enjoy a good hike... sometimes :'). Indoors, I love to spend my free time either reading or watching a good tv series.
What advice would you give someone who wants to have a career like yours?
As a wise one once told me, and the rest of the whole world.. just keep swimming. It's not gonna be easy and at times, you're going to feel like you should just give up, but giving up is just one less scientist from making a ground-breaking discovery in marine science. One less inspiration to future generations who might have that spark within them too. and one less individual doing what they love the most. For me, it's knowing the impact I've made on people and how their views have changed for the better regarding the environment. Figure out your motivation and drive and use that as a stepping stone for every hurdle you may face.
How did you get involved with the Ocean Exploration Trust?
I had applied when my cousin, who works at our islands community college, sent me a link and encouraged that I apply.
Expeditions
Pheona participated in the following Ocean Exploration Trust expeditions: