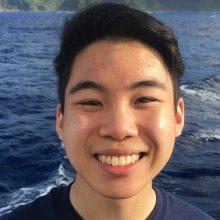 Peyton Lee
He/Him
Ocean Science Intern
Undergraduate
University of Washington (School of Aquatic and Fishery Sciences)
Tell us about your work/research. What kinds of things do you do?
I'm currently an undergrad student studying Aquatic and Fishery Sciences and Computer Science at the University of Washington! I'm involved in a number of marine science-related projects on the UW campus, including a research project with the Reality Lab. I'm currently acting as the client-side app developer for a phone-based augmented reality app that lets users view the shape of the seafloor. I'm also a club officer in the Underwater Remote Operated Vehicle (UWROV) club at UW. As officer and head of the programming subgroup, I help to manage the control systems of our ROV as we prepare for the Marine Advanced Technology Education (MATE) competition! I work with Python and some Javascript, to make our ROV dive, move, and capture video feed.
What sparked your initial interest in your career?
I've always been fascinated by the oceans from a very early age. Part of that fascination is with just how many fields of study marine science covers, everything from biology to chemistry to technology and engineering-- there's always more to be explored and learned, and every piece of knowledge is interconnected. High school was especially formative because I got the opportunity to participate in the regional Orca Bowl and eventually the National Ocean Science Bowl (NOSB), a marine science trivia competition. Alongside NOSB, I also acted as a volunteer at the Seattle Aquarium, and both of those gave me opportunities to interface with and be inspired by marine biologists, oceanographers, and engineers.
Who influenced you or encouraged you the most?
I was incredibly inspired by my marine science teacher Megan Gray, who was simultaneously my National Ocean Science Bowl (NOSB) coach, Ocean Science Club advisor, AP Biology teacher, and musical theater choreographer. She's encouraged me in so many ways while wearing so many different hats and has always fueled my interest in the oceans.
What element of your work/study do you think is the most fascinating?
Building an ROV from the programming side has been a really fascinating experience because there are so many control systems to account and plan for at once, while also communicating with mechanical and electrical engineering teams, all under a time crunch! It's exhilarating when progress gets made after weeks of work, and you finally see everything working in tandem.
What other jobs led you to your current career?
I was a volunteer at the Seattle Aquarium for four years, guiding visitors through exhibits and connecting them to greater marine conservation ideas. As an intern at foundry10, I developed a bycatch-focused virtual reality game, Bycatch-22, that uses technology and games to teach the public about issues in fishery conservation, which likewise taught me to be an ocean advocate. Additionally, I've been a club officer for UWROV, president for Newport's Ocean Science Club, and acted as Pit Crew for Newport Robotics Group (948)! I also participated in high school theater, picking up public speaking and communication skills (and a little bit of boundless theater kid energy).
What are your degrees and certifications?
(In progress) Bachelor of Science in Aquatic and Fishery Sciences, Bachelor of Science in Computer Science -- University of Washington 2022
What are your hobbies?
A little bit of everything! I run an Etsy shop selling handmade plushies, draw and paint, keep and breed freshwater shrimp, play D&D, and dabble in 3D printing and laser cutting!
How did you get involved with the Nautilus Exploration Program?
I was originally a big fan of the Nautilus Exploration Program livestream, and then applied through the Scientific & Engineering Internship Program!
What advice would you give someone who wants to have a career like yours?
While my career is just starting, I highly encourage students to reach out to faculty and professionals in fields that you're interested in! Shoot them an email and ask about their work, and more often than not they'll be delighted to talk about what they do. Dedicate time and energy to what excites you and you'll always find new opportunities to move forward. And most importantly, approach everything with a spirit of courtesy, sportsmanship, and kindness-- not only does this open doors, but it also builds a spirit of community that the environmental science community needs.
Expeditions
Peyton participated in the following Ocean Exploration Trust expeditions: