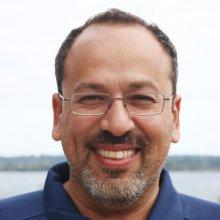 Peter Girguis
Science/Data Team
Professor
Harvard University
Tell us about your work / research. What kinds of things do you do?
I am a Professor of Organismic and Evolutionary Biology at Harvard University. My research focuses on microbes that flourish in so-called "extreme environments". I am particularly interested in understanding the role they play in mediating global biogeochemical cycles. My research is highly interdisciplinary, and I employ a variety of molecular microbiological and geochemical techniques as appropriate. I have also developed a number of novel instruments and samplers for use on HOVs, ROVs, and AUVs –such as underwater mass spectrometers and microbial samplers- to enable my research group and the broader community interrogate these relationships in a manner previously unattainable. 
What sparked your initial interest in your career?
I grew up in Downey, California in the 1970s. At that time, people from all walks of life helped design and build the Apollo moon rockets, the space shuttles, and the space station. I saw how it takes ALL kinds of people from all walks of life to make that happen. Now, as a professor, I get to explore inner space -that is the deep sea- and I want to enable people from all walks of life be a part of that exploration!
Who influenced you or encouraged you the most?
I would say that my parents -as well as fifth grade teacher Mrs. Reucker- were three of most influential people in my life. My parents were immigrants, and they did their best to provide me with opportunities to study and learn. It was my fifth grade teacher, however, who saw the challenges I faced and helped me overcome them.
What element of your work / study do you think is the most fascinating?
The technology is hard to beat, but my favorite moments -without question- are when students make a new observation or solve a long-standing problem. That is how science moves forward, when the people we train become better scientists than we are.
What other jobs led you to your current career?
I've had a number of different jobs as a younger person, from working at a fast food restaurant to loading boxes onto big trucks at a distribution center. It sounds cliche, but I did learn something from each of those jobs that helped me stay in school and stay focused. 
What are your degrees and certifications?
Bachelors of Science from UCLA. and a Ph.D. from UC Santa Barbara.
What are your hobbies?
I am learning how to be a blacksmith (at least, I'm trying anyway). I enjoy setting up home theater systems as well. I spend most of my time, however, chasing my three young boys around the backyard and fixing the things they broke.
What advice would you give to someone who wants to have a career like yours?
First things first, figure out what really "floats your boat" so to speak, and pursue that. Really dive into it. Realize that it takes all sorts of people with lots of different talents to make deep sea research happen. Everyone on the ship, from the deckhands to the lead scientist, are equally critical parts of the team. Once you figure out what really gets you going, do that and find a way to apply it to marine science.
How did you get involved in the Nautilus Exploration Program? How did you get on the ship?
I've been working with the Nautilus program in different capacities for a few years now. I volunteered to be co-lead scientist last year, and had one heck of a time. Now I can't get enough.