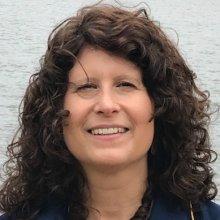 Peggy Knoebel
Travel and Logistics Asst. Manager
Ocean Exploration Trust
Tell us about your work/research. What kinds of things do you do?
I have a background booking educational travel and tours for musical groups. I stepped away from this career and have been working as a camera assistant for TV, film, and commercials for the last few years. 
What sparked your initial interest in your career?
I love to travel and explore the world - I have been to 27 countries so far. 
Who influenced you or encouraged you the most?
My first job in travel was with the American Council for International Study. The founder, Peter Jones, spoke to us about the transformative power of travel, especially for students experiencing new cultures for the first time. His vision influenced my lifelong pursuit of helping others experience this for themselves. 
What element of your work/study do you think is the most fascinating?
The element of travel that is the most fascinating is that the industry is constantly changing. There are more ways than ever for people to get out and connect with other cultures. 
What other jobs led you to your current career?
Booking corporate and group travel. 
What are your degrees and certifications?
BA in Sociology
What are your hobbies?
Traveling, hiking, yoga, reading, and cooking. 
What advice would you give someone who wants to have a career like yours?
Start off working in the travel industry.