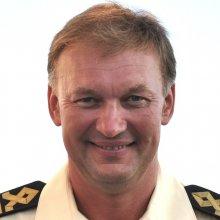 Where are you from?
Difficult to say: I was born in Ukraine, graduated from AMSA, the best Marine Academy in Russia, then lived in St. Petersburg for 19 years. Now I live in Ireland where I moved when beginning to work on research ships.
What languages do you speak?
Ukrainian, Russian, English with an Irish accent, and a little bit of Spanish and German.
How long have you sailed on E/V Nautilus?
I joined Nautilus in 2011.
What are your roles and responsibilities aboard E/V Nautilus?
I am doing all kinds of things on board, mainly connected with safety, security, and crew well-being. I am the captain, and I have the responsibility for the safe operation of the ship and the welfare and safety of everyone on board.
What other jobs led to your current career?
Being Captain is only my job, which I like from the bottom of my heart.
What are your hobbies?
Ships, sports, diving, traveling, and poetry.