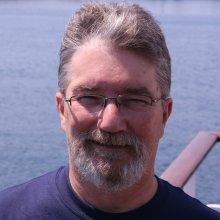 Paul Thompson
Video Engineer
Video Production Engineer
Hands On Productions Inc
Tell us about your work/research. What kinds of things do you do?
I am a video engineer working in Broadcasting (TV Stations), Corporate, Educational, and Sports. I help build and operate all kinds of video systems from small fly-pack systems to large Broadcast systems.
What sparked your initial interest in your career?
First off, I get to play with really fun toys, cameras, video switchers. I got into video production to work on and play with all kinds of video equipment and toys.
Who influenced you or encouraged you the most?
My Dad, by telling me that I could do anything I wanted to, but by all means, always have fun at what you are doing.
What element of your work/study do you think is the most fascinating?
Getting to play with very fun video equipment and learning new things every day from all the great people I work with and around. Doing live shows is the part I like the best because you only get one shot to make it right.
What other jobs led you to your current career?
My dad was a naval architect so I grew up around boats and always lived near the water. When I was 9 we moved to the Philippines (Subic Bay) and one of my favorite activities there was to snorkel around the reefs and see all the coral and sea life. I've always had an interest in pictures. In high school, I took and then taught graphic design courses, and later I discovered what fun a television career could be. I worked at KIRO television for many years and then moved onto Microsoft to learn more of the corporate end. Now I work for myself which enables me to have the freedom to participate in really cool adventures like this one.
What are your degrees and certifications?
AA in Broadcasting, FCC License, Fiber Optic splicing, several certifications from Sony, Grass Valley Group, and other broadcast companies.
What are your hobbies?
Photography, remodeling houses, hanging out with my kids.
What advice would you give to someone who wants to have a career like yours?
I don't know of any company that does not use video for educating or training of some type. Find the niche that works for you, work hard, listen and most of all have fun. You never know, with a little luck you may get to work on a research ship like this one.