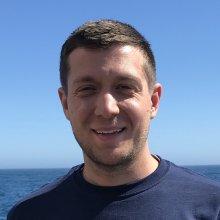 Paul Glick
Argus Pilot
Graduate Student
University of California, San Diego
Tell us about your work/research. What kinds of things do you do?
I am a Ph.D. student at UC San Diego and a NASA Space Technology Research Fellow. In my research, I develop compliant mechanisms and interfaces for robotic manipulators that use adhesive interfaces. Adhesives are useful to grasp surfaces too large to enclose, objects without discrete features such as handles, and fragile objects. However, adhesives provide a unique challenge for robotic manipulators because they require close contact with the surface. Generating this contact on rough surfaces requires compliant structures that depend on the surface and the adhesive technology. To create compliant structures I prototype designs that use soft foams, stretchy silicones, cable-driven linkages, and fluid pressure. To fabricate these designs I use a variety of techniques such as traditional machining, additive manufacturing with 3D printers, silicone molding, and laser cutting. I also build analytic tools and experimental setups to evaluate designs. 
What sparked your initial interest in your career?
Engineering became my passion because it combines creativity with technical problem-solving. In 10th grade, I found out my school had an engineering team, and that they were trying to make a hovercraft. I joined out of curiosity and stayed for the challenge. Over time I focused on robotics, which requires knowledge in mechanics, electrical engineering, and computer programming. While I am primarily a mechanical engineer, having experience in all three areas means I can bring my ideas to life and am limited only by my imagination. 
Who influenced you or encouraged you the most?
My parents have always supported me, and my high school physics teacher sparked my initial interest. Currently, in my Ph.D. program I have found three wonderful advisors; their mentorship and guidance have had a profound impact on my research.  
What element of your work/study do you think is the most fascinating?
Designing robots for extreme environments makes each day exciting. Some days I get to think about robotic grippers in space, and others about growing robots to explore coral reefs. Having demanding application environments leads to unique design challenges and engaging in field work. 
What other jobs led you to your current career?
My motivation to find work that was intellectually challenging and creative was influenced by my first job in a coffee shop where I found myself filling free time thinking about academic projects. Since then I have tried a variety of jobs such as lab technician, teacher, and controls engineer. Additionally, I write in my free time to develop the skill, since communication is essential for research.
What are your degrees and certifications?
Ph.D. in Mechanical Engineering in progress; M.S. in Mechanical Engineering -- University of California, San Diego 2018; B.S. in Mechanical Engineering --University of California, San Diego 2014
What advice would you give someone who wants to have a career like yours?
To work in robotics usually requires at least some interest in computer science, electrical engineering, and mechanical engineering. Each of these fields has depth, so a willingness to learn about new topics is especially important. Additionally, having a theoretical or professional background in one of the topics is important, but many hands-on skills can be picked up through hobbies and projects. My best advice is to get started designing or building something, get involved in clubs or competitions, and don't be afraid to dive into ideas that seem complicated at first. 
Expeditions
Paul participated in the following Ocean Exploration Trust expeditions: