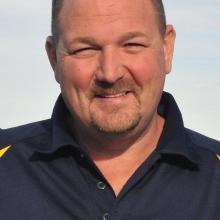 Paul Brett
Navigator
Fisheries and Marine Institute of Memorial University of Newfoundland
Paul Brett works as one of the navigators onboard E/V Nautilus.
Paul is an instructor and Coordinator of Programs for the Marine Institute's School of Ocean Technology (SOT). He teaches various mapping technologies in a variety of programs ranging from short courses to senior classes at the undergraduate and graduate level.
Paul is a specialist in Geographic Information Systems (GIS) and remote sensing integration, including database design; he has widespread experience working with synthetic aperture radar (SAR), multispectral imaging, Multi‐beam sonar, side scan sonar, and geographic information systems application and development.
He has applied his research skills to projects related to habitat classification and the creation of a seabed atlas with the applied research unit of the school of Ocean technology. Paul's latest projects include ROV and the use of side scan sonar for habitat identification, during an oceanographic cruise with the University of Limerick in Ireland and also work involving AUV and side scan sonar for ship wreck surveys with the University of Rhode Island. Mr. Brett has had his research appear in a number of scientific journals and magazines. He has written on a number of topics, including wolf fish, ring seals, remote sensing research and hagfish surveys.
Mr. Brett has a Masters of Science (Geography) from Memorial University of Newfoundland, as well as a undergraduate degrees in Education (post secondary), Physics, and Geography, all from Memorial.