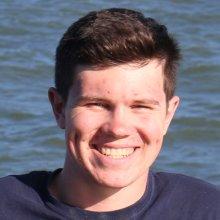 Patrick Madaus
ROV Engineering Intern
Undergraduate
University of Connecticut
Tell us about your work/research. What kinds of things do you do?
I am a mechanical engineering student at the University of Connecticut. As someone who enjoys all types of boats and ships, I have had the opportunity to work on a wide variety of projects that peak my interest, like studying effective oar design for competitive rowing. After graduation, I plan on becoming an officer in the US Navy, and eventually, hope to make my way back to ocean engineering research and design.
What sparked your initial interest in your career?
I have lived by the water my entire life and started sailing at a very young age. As a result, I have always had a fascination with the ocean and ships. I also began to read about and visit exhibits on the Titanic and became hooked on ocean exploration. When I was selected for the Honors Research Program, I saw firsthand how complex and interesting ROV design was, and decided that engineering was definitely the right path for me.
Who influenced you or encouraged you the most?
My parents told me that I would make a great engineer when I was very young, way before I even knew what engineers really worked on. As I progressed through school, I had two science teachers in particular that encouraged me to challenge myself in physics and chemistry, resulting in a strong background that would set me up for success in college.
What element of your work/study do you think is the most fascinating?
The mechanical engineers all get to run an actual jet engine outside one of the lab buildings. I can't think of any other major that does something that cool during class.
What other jobs led you to your current career?
One of my first jobs was as a volunteer sailing instructor. In order to become a paid instructor, it is typical to usually have 1-2 years of full-time junior volunteer experience. In this position, however, you are the lowest ranking out of all the instructors, which usually means you get the jobs nobody else wants to do. However, this was an experience that definitely shaped my leadership style when I transitioned into being a full-time instructor, and eventually the head instructor of the whole sailing school. Moving forward, as I take on leadership positions in different fields, I will absolutely remember what it was like at the bottom of an organization and what it takes to move up, and experience that is invaluable in my opinion.
What are your degrees and certifications?
Bachelor of Science in Engineering - Mechanical Engineering - the University of Connecticut (expected May 2019); US Sailing Instructor
What are your hobbies?
I love sailing, skiing, rowing, filmmaking, and anything that involves being on the water!
What advice would you give someone who wants to have a career like yours?
If you want to become an engineer, it is critical to get involved in extracurricular clubs and activities related to your major. While the classroom environment can teach you the fundamentals, the hands-on skills that come from certain clubs (like Formula SAE) will be invaluable.
How did you get involved with the Nautilus Exploration Program? How did you get on the ship?
I was an HRP (honors research program) student during the summer of 2014. Before that, I was an avid fan of Dr. Ballard's previous explorations.