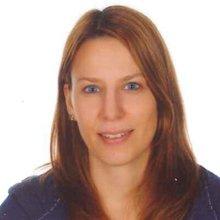 Patricia Ramey Balc
Scientist
Senior Research Scientist
TUBITAK, The Scientific and Technological Research Council of Turkey
Dr. Patricia Ramey-Balci is a marine community benthic ecologist who studies the relatively little known organisms living in the sediments at the bottom of the seafloor. Working with the Nautilus she will examine the diverse chemosynthetic communities associated with the Anaximander mud volcanoes located off the coast of Turkey, comparing macrofaunal communities at active vs. inactive seeps.
Her current research activities are focused on the integration of molecular techniques (i.e. DNA barcoding) in ecological research, biodiversity assessments, and monitoring studies to advance the ecological understanding needed for science-based resource management. She has been instrumental in the development of benthic indices for the assessment of ecosystem health in coastal areas.
Patricia received her B.Sc. from Acadia University, Nova Scotia, and a M.Sc. from Memorial University of Newfoundland, Canada. In 2008 she completed her PhD in the Ecology and Evolution Program at Rutgers University, New Jersey, USA. She was employed as a research faculty member at the Institute of Marine and Coastal Sciences, Rutgers University until 2010 when she moved to pursue a post doc at the Senckenberg Research Institute and Natural History Museum Frankfurt, Germany; gaining experience in molecular techniques as applied to taxonomy, phylogeography, and phylogenetic studies. She joined TUBITAK in 2012.