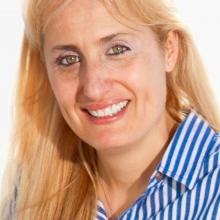 Paraskevi Nomikou
Geologist
University of Athens
Paraskevi Nomikou is one of Chief Scientists for the Greek leg of the expedition.
Her research interests lie mainly in the recognition of seafloor sedimentary and tectonic features that are mapped using SEABEAM technology and has a very broad background in the interpretation of seafloor morphology, marine sedimentation, regional tectonics, and volcanism. She has participated in many international multidisciplinary projects and she has dived with submersible THETIS of HCMR in many active submarine volcanoes of the Aegean Sea such as Paphsanias Volcano, Strongylli Volcano, Pachia Volcano, Nea Kameni Volcano and Kolumbo Volcano. She has participated in many marine geophysical/geological surveys over most of the Aegean Sea and Eastern Mediterranean Sea and has been one of the very few specialists in the processing and interpretation of multibeam data collected over the past years by the RV AEGEON from HCMR. In 2010 she has joint the scientific party on board NAUTILUS research vessel and served as government representative, designated by the Ministry of Foreign Affairs. Additionally, she has joined the two educational research projects of HCMR "NAUTILOS 2005-2007" (www.nautiloshcmr.gr, www.explorenautilus.com) whose aim was to inspire young people to involve in ocean exploration.
Paraskevi graduated from University of Athens in 1996 with a degree in geology and completed her PhD in marine geodynamic at the same University in 2004. She is working in the Faculty of Geology and Geoenvironment of University of Athens (NKUA) in the last 11 years and since 1999, she has been a scientific collaborator of the Oceanographic Institute at the Hellenic Center for Marine Research (H.C.M.R).