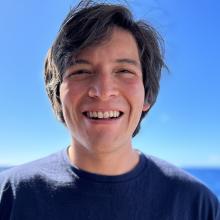 Oriel Caballero Castillo
2nd Officer
Describe your work onboard the ship. What are your responsibilities?
I am the Second Officer of the navigational Bridge. Under the captain and chief officer's authority, I am responsible of the inspection, and maintenance of lifesaving and firefighting equipment onboard. Moreover, I am in charge of providing safety familiarization training for new onsigners both from the crew and scientist party. This involves instructing new personnel in matters of available safety equipment onboard, evacuation routes, and the variety and meaning of alarm codes that are used onboard. I also stand a full navigational watch (8 hours per day) on the Bridge, keeping the life and safety of the ship. Together with the other officers, we assist the captain with pre-arrival and departure documentation for all ports of call.
What part of your work do you like the most?
What I enjoy the most is navigating the vessel. I love driving her when arriving at port, the sense of tranquility I feel when she is leaving port, feeling the breeze ahead of her when we get to sea, and watching as the ocean becomes the only thing in sight for 360 degrees. Another fun moment in my work happens as the ship changes into mapping operations, when as a Bridge officer you must maneuver to get the ship set and "online" for survey tracks.  Mapping is a good challenge to meet the science plan and also make all your turns from one line to the next in the most gentle way possible.  During ROV diving operations it is always a fun challenge to get the ship stopped at the exact coordinates set for diving. Trying to stop the ship as near as possible, makes you feel like you are in a video game.
What other jobs led you to your current career?
Working as a sailor within the merchant marine had been my only professional job. I gained sea experience at different types of vessels, before joining the Nautilus.
What are your hobbies?
When I'm at home in Panama, I like swimming, getting my boxing gloves on for kickboxing classes, and taking bike trips around the nearest beaches.
What advice would you give someone who wants to have a career like yours?
The most valuable advice I can share is to build patience, lots of patience. The beginning of the career is difficult, as you are without experience; you will receive a lot of "NO" responses; but never lose hope. Never lose trust on yourself. Never pass up any opportunity you get; you don't know if that chance is the one that will lead you to your goal.
What sparked your initial interest in a career working at sea?
I always had the idea I would like not to stay in the same place. I did not want to travel the world just once a year during vacation; I wanted to be walking around the world. During middle and high school, I was curious about many places around the world we were taught in Geography classes. I was always saying to myself "Someday Oriel, not so far away from now, you will see these places with your own eyes!"