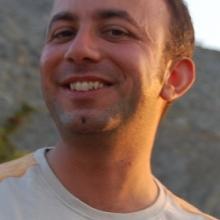 Onur Gonulal
Marine Biologist
Istanbul University
Onur Gonulal works as visiting scientist onboard the E/V Nautilus.
He is a PhD student with Istanbul University Faculty of Fisheries at the Marine Biology department. Onur is examining decapod crustacea. His works focuses on the deep sea especially at Aegean sea. He has worked as a volunter RAC/SPA MedPosidonia Project Field Survey in the Gökçeada island (North Aegean Sea) and International Student Workshop on Marine Biology organized by Faculty of Aquatic Science, Istanbul University in cooperation with Department of Zoology and Fisheries, Czech University.
Onur graduated from Istanbul University in 1998 and completed his Masters degree in the marine biology department. He is continuing to pursue a PhD in marine biology.