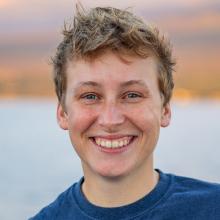 Nova West
They/Them
Video Engineer, Documentarian
Wildlife and Expedition Filmmaker
Tell us about your work/research. What kinds of things do you do?
I've worked as a wildlife/adventure filmmaker specializing in underwater cinematography for over six years, collaborating with networks such as National Geographic, Discovery, Netflix, Disney+, and more. I've worked on productions such as Emmy-winning Secrets of the Whales and Emmy-nominated Expedition Amelia, and have recently started directing my own independent documentaries. My first film, Diving for Rays, premiered in 2022 and is now streaming on Waterbear Network, and I currently have a few other exciting projects in the works! 
In addition to my film work, I'm also an avid artist, photographer, and environmental educator. I've been working on a side project that I call my "Technical Journal," where I create detailed diagram-like drawings of the scientific tools and methods I encounter in the field. I then use these drawings to publicly communicate various scientific methods, utilizing my art as a new and engaging educational tool. In all aspects of my creativity, my work most often centers around the natural wonders of our world, queerness, and intersectionality, and inviting others to learn and explore with me. 
What sparked your initial interest in your career? 
I've always had an innate interest in wildlife and expedition storytelling, all starting with exploring my backyard while growing up in small-town Minnesota. My curiosity about this strange world we live in, combined with always having a camera in my hand, gave me a platform to make art from the things I saw. In college, I studied Environmental and Outdoor Education, and was constantly finding new ways to tell wild stories as a form of outdoor education. During my senior year, one of my professors helped me realize that I could combine my love for the remote outdoors, teaching, storytelling, and art into a career that was not only fulfilling, but utilized all of my different interests and skill sets. After graduation, I moved out to Washington, DC for an internship at National Geographic Headquarters and never looked back. Since then I've found myself in all sorts of new places, reigniting over and over again that spark of creativity and curiosity that got me started in the first place.
Who influenced you or encouraged you the most?
I think about this question a lot and my honest answer is everyone - everyone from my family to my friends, professors, and colleagues. I am so incredibly lucky and privileged to have so many people cheering me on, inspiring me, and having my back. To be a little bit more specific, I gotta give a proper thank you to my college professors Dr. Danny Frank and Dr. Ken Gilbertson, my partner Jasper, my family, and my community, who played critical roles in helping me see beyond the bounds of who I thought I could be.
What element of your work/study do you think is the most fascinating?
Currently I'm finding it so fascinating to get to work with a wide variety of scientists and find creative yet holistic ways to communicate their work. Whether I'm working with scientists who capture dolphin dialects using hydrophones, personally deploying 360º cameras to capture pristine remote reefs, or collaborating with scientists leading an ROV mission to document newly-discovered deep-sea hydrothermal vents, getting to work on such a wide variety of projects poses opportunities of riveting creative problem-solving. Utilizing this access to learn more about a variety of sciences, meet new explorers, and create art about their work, all while supporting critical missions at sea, are things I've found to be critical aspects of fulfillment within my work.
What other jobs led you to your current career?
Throughout my working years, I've done many jobs unrelated to my career, which in an interesting way, have taught me the most about what I want to do. In order to pay for college, I used to work full-time on an assembly line at a window hardware factory, in addition to part-time work at my school's dining center, climbing wall, graphic design center, and a local grocery store. Above all, working in a factory was some of the most physically and mentally taxing work I've ever done, and having that job truly gave me the push and perspective I needed to go after the things I cared about. Along my path, I've had many opportunities to try on a variety of different hats, including product design work, scientific diving, animal handling, trip leading, mural painting, teaching at an environmental learning center, art commissions, film logistics and editing, and public speaking. Although they're not all directly related to what I currently do, these jobs in many ways have informed how I approach my film and photography work, and have helped me to narrow down my career path to wildlife, expedition, and underwater filmmaking.
What are your degrees and certifications?
I have a Bachelor of Applied Human Sciences in Environmental and Outdoor Education from the University of Minnesota, Duluth. Additionally, I am a PADI Rescue and NITROX diver, FAA Part 107 Drone Pilot, and American Red Cross Wilderness First Responder.
What are your hobbies?
I absolutely love scuba diving, which certainly informs what I try to do most in my filmmaking career. I also enjoy trying out new art mediums (i.e. drawing, ceramics, cyanotypes, welding, 35mm photography, mixed media, etc), playing video games with my friends, and exploring the wild spaces around me. I love hiking, backpacking, weight lifting, rock climbing, snorkeling, and pretty much anything that gives me a break from screens and immerses me in nature. I've also been a drummer for over 20 years, and have been in several bands as I find new people and groups to jam with. When I'm not working you can find me canoeing in the Minnesotan Boundary Waters or howling with friends at a beach bonfire.
What advice would you give someone who wants to have a career like yours?
If you want to be a filmmaker I highly recommend starting with filming what's near you. Most of what I know about film is self-taught and started with telling stories found in my own backyard. Learning as much as you can on your own, from planning a film to producing, shooting, and editing, can really make a difference when it comes time to work on your first gig. The amazing thing about technology these days is virtually everyone with a modern cell phone has a pretty decent camera already in their pocket, and there are a lot of free editing software out there like DaVinci Resolve. It's so easy to get caught up in the fancy gear and software (I'm certainly guilty of this) but given you have access to the basics like a phone and a computer, do what you can with what you have until you're able to connect with someone who has more resources and tools. 
My other piece of advice is to network as much as you can. In the film world connections are currency. Don't be afraid to reach out to people who are doing what you want to do and ask them how they got there. You never know what advice they may have, who they can connect you with, and what opportunities they may hold or be aware of. That one connection may just be the start of an incredible journey! 
Lastly, there are many organizations such as National Geographic, Jackson Wild, NEWF (Nature Environment Wildlife Filmmaking), and Ocean Exploration Trust that provide opportunities for new and up-and-coming filmmakers to get their foot in the door. Taking advantage of these resources, opportunities, and mentorship programs are key to filling in gaps and getting your journey started!
How did you get involved with the Ocean Exploration Trust?
In 2019 I had the opportunity to sail on the E/V Nautilus for the first time as part of the National Geographic film crew filming Expedition Amelia; a documentary about Dr. Ballard and his crew searching for Amelia Earhart's plane near the island of Nikumaroro. This expedition marked the first time I left the country, let alone participated in a high-profile expedition with world-renowned explorers. During my time on board I became intrigued by Ocean Exploration Trust's mission and body of work, and connected with several crew members about how I could potentially further my work with the team. After returning home I reached out to the Video Operations Manager I had sailed with, and after a few emails and a few years here and there, I was hired as a contracting Video Engineer and Expedition Documentarian in 2021.
What excited me the most about participating in a deep-sea mission is that I get to be a part of something so much bigger than myself. Regardless of if I have an off day or am a little seasick, I know that what I'm doing is contributing to an incredible effort to better understand our planet. And that's just plain cool.
Expeditions
Nova participated in the following Ocean Exploration Trust expeditions: