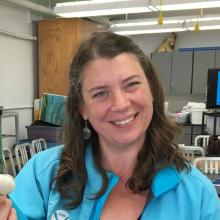 Nicole Harris
On Shore Scientist/Educator
Education and Outreach Specialist
NOAA Olympic Coast National Marine Sanctuary
Tell us about your work/research. What kinds of things do you do?
Plan, develop, and implement K-12 marine science and place based education programs, as well as mentor of marine science education interns
What sparked your initial interest in your career?
I grew up in Oregon (a coastal state) but spent little time at the ocean, until I was a commercial deckhand on a troller salmon fishing boat in Alaska. I was hooked on the ocean after that, and love sanctuaries as the opportunity to highlight the many sustainable ways to engage with our one big ocean while promoting long-term conservation.
Who influenced you or encouraged you the most?
My skipper on the fishing boat was a retired marine biologist, it was a summer of fishing and ocean education. My family has been a huge support and cheerleading team as well.
What element of your work/study do you think is the most fascinating?
I love that the beach is often my "office" and sharing my excitement around the ocean is probly my most favorite thing.
What other jobs led you to your current career?
I was a preschool and K classroom teacher, a business owner (a bead store, I just love sparkly, shiny things) and a nearshore biologist in the central strait of Juan de Fuca before joining the sanctuary.
What are your degrees and certifications?
BS of environmental science and policy
What are your hobbies?
tidepooling, fishing, lampworking (making glass beads), and knitting.
What advice would you give someone who wants to have a career like yours?
say yes to opportunities, volunteer, and never lose your sense of wonder.