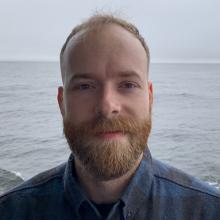 Nicolai Bailly
Science/Data Team
Project Engineer
Ocean Networks Canada
Tell us about your work/research. What kinds of things do you do?
I work as a Senior Project Engineer for Oceans Network Canada and specialize in acoustic instrumentation and our junction box technology. I help plan deployments for a variety of oceanographic equipment and prepare the configurations of our cabled observatory.
What sparked your initial interest in your career?
One of the things that got me through engineering studies was a passion for music. Music lead me to studying acoustics and recording techniques. One of my first co-ops was for Ocean Networks Canada where I assisted in the development of a hydrophone calibration system and never looked back.
Who influenced you or encouraged you the most?
Tom Dakin was the influence who took my passion for sound and unleashed it on the Oceanography world. His work ethic is second to none.
What element of your work/study do you think is the most fascinating?
I am fascinated by the ever changing scope of the work, the teamwork required to achieve our goals, and the satisfaction of pushing to solve the difficult task of monitoring the ocean.
What other jobs led you to your current career?
Prior to working at Ocean Networks Canada I did design work for Towed Array sonar systems at a company called Ultra Electronics Maritime Systems. Even before that many of my co-ops were related to ocean science!
What are your degrees and certifications?
Bachelors of Electrical Engineering, September 2007 – April 2013
University of Victoria
Victoria, British Columbia
Department of Engineering
Underwater Acoustic and Signal Processing, 2014
Penn State, Pennsylvania
Underwater Acoustics and Sonar Systems, 2016
University of Birmingham, UK
PADI Diving certification
Marine First-Aid
Small Vessel Operator Proficiency
Waveglider operator certificate
What are your hobbies?
Riding down mountains or waves on a board, or hiking up a mountain with my dog! I also enjoy a good movie.
How did you get involved with the Ocean Exploration Trust?
Ocean Networks Canada has been involved with the Ocean Exploration Trust for many years. Expeditions are where I shine!
What advice would you give someone who wants to have a career like yours?
Find a way to relate work to your hobbies - for me it was music. Don't be afraid to get your hands dirty, it's a hands-on field.
Expeditions
Nicolai participated in the following Ocean Exploration Trust expeditions: