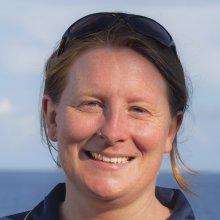 Nia Jones
Science Communication Fellow
Marine Awareness Officer
North Wales Wildlife Trust
Nia Jones works as the Marine Awareness Officer at North Wales Wildlife Trust. Since graduating from University of Wales, Bangor in 2004 Nia has run several projects to educate and enthuse people of all ages about the local marine environment. Through these projects she has engaged with over a 160 schools and run a similar number of public events. Her varied experience includes TV and radio appearances and she has published numerous articles.    
Nia Jones graduated from University of Wales, Bangor in 2003 with a BSc(Hons) in Zoology with Marine Zoology and completed her MSc in Ecology in 2004.
"I've had a lifelong love for the sea and really can't wait to get onboard E/V Nautilus to experience and share the excitement of ocean exploration first-hand!"
Expeditions
Nia participated in the following Ocean Exploration Trust expeditions: