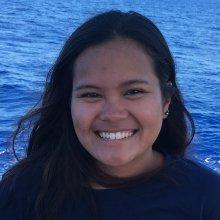 Nerelle Que
Science/Data Team
Communications & Outreach Coordinator
National Marine Sanctuary of American Samoa
Tell us about your work/research. What kinds of things do you do?
I work across different teams within the sanctuary to communicate our overall objectives. Some days, that means putting an outreach event together or going out into the field with the science team. Other days, it means designing and creating an interpretive exhibit for our visitor center. There's always something new, which is exciting!
What sparked your initial interest in your career?
All my life I've lived in American Samoa, surrounded by some of the lushest mountains, and diverse ocean landscapes. I've always known this place to be home. It wasn't until I came back from the University of Arizona, where I lived in the desert for 4 years, that I realized how much I missed home and the natural beauty that is the ocean. I worked in a few different jobs since then, but I found myself gravitating towards my national marine sanctuaries because it felt like home.
Who influenced you or encouraged you the most?
My honest answer would be my fiancé, who is a marine bio technician. When I first met him, I was in awe of how passionate he was when he talked about marine biology, so I constantly asked him questions about his work. And he gave me answers that only made me want to learn more about science! Even though my background was in business, I've learned to become an ocean advocate, and I owe a big part of that to him.
What element of your work/study do you think is the most fascinating?
I think that the most fascinating part of my work is seeing the outcomes of outreach and communications, and working with people who are passionate about the environment. It makes me so happy.
What other jobs led you to your current career?
I've had many great opportunities that led me to where I am now as the Communications and Outreach Coordinator at the National Marine Sanctuary of American Samoa. Everyone's paths are unique, and it so happens that I started out as a business student. My first job after graduating was in economic planning at the American Samoa Department of Commerce. There, I learned invaluable skills in communications, particularly in public service. After a few years, I decided I wanted to go into a more creative field, so I applied and got a job in marketing as a social media and sponsorships coordinator (then later became the graphics designer) at Bluesky Telecom. During my years there, I learned that I loved community outreach and seeing the positive impacts of outreach. These opportunities, coupled with my skills in photography, web design, and writing, are how I got to where I am today.
What are your degrees and certifications?
Bachelor of Science in Business Administration with a focus on Marketing.
University of Arizona Eller College of Management 2013.
Padi Open Water SCUBA Diver.
What are your hobbies?
I love photography because I can express myself and my perspectives through images. I also enjoy blogging (where I share my photos and ramblings), crocheting, crafting and reading.
How did you get involved with the Nautilus Exploration Program?
NOAA Office of National Marine Sanctuaries is a partner in this American Samoa cruise, and I'm incredibly lucky to be involved with the sanctuaries on the E/V Nautilus.
What advice would you give someone who wants to have a career like yours?
Ask a lot of questions, and always try something new, especially if it interests you. Communications and outreach is a very eclectic field, and whether you want to venture into marine biology or engineering, being able to communicate effectively and educate those around you is essential to any field.