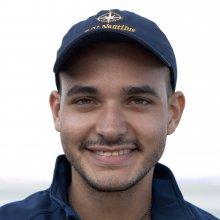 Nathaniel Krafve
He/Him
Video Engineering Intern
Undergraduate
University of North Florida
Tell us about your work / research. What kinds of things do you do?
I am experienced with video production both for live broadcasting and nonlinear editing. I've worked on live sports broadcasts as a video specialist and performed action-replay duties. But I've also worked in studio environments as a director and as an editor. Lately, I've been introduced to underwater camera operating and ROV and Drone camera operating as well. However, in order to become proficient in any video skill, it requires a ton practice and even a lot more patience.  
What sparked your initial interest in your career?
An interest in video engineering didn't start until I was in high school. At the time I was still focused on how could I turn science into a career. But growing up I thought video production was the coolest thing in the world. In college I wasn't sure I how could decide on one path versus another, so I focused on enhancing my skills in video production. But in my last two semesters, I rediscovered my passion for marine science and found an opportunity where I could combine my passion for science and my skills in video and create several amazing projects. In one class, I was required to search for possible internships and I found two where I could continue on my path of fusing two of my favorite fields. After graduating I learned, the only way to pursue your dreams, is to make them real yourself.  
Who influenced you or encouraged you the most?
There have been a lot of individuals who have influenced my life. It wouldn't be fair to credit one person because I've had a diverse experience that's lead me to this opportunity. Family taught me to be myself and show the world my inner character. Friends taught me commitment requires perseverance. It's because of these two lessons, I have been able to go after my dreams and capture every moment.
What element of your work / study do you think is the most fascinating?
The most fascinating I've worked done is film and edit footage for a web series show about dolphin rehabilitation. Being a part of a massive project is truly an honor, especially being privileged to share an incredible story.
What other jobs led you to your current career?
I've discovered many opportunities on my goal to work in videography because I've stepped outside of my comfort zone and persevered through adverse challenges. What helped lead me to be a video engineering intern, I've had to be a marine video assistant, camera equipment manager, sports video specialist, and even camp counselor. The only way you can gain new experiences is trying new things -- you never know what opportunities might unfold if you take that jump forward.
What are your degrees and certifications?
Bachelor of Science in Communication Production -- University of North Florida; Open Water Diver --SSI; Lifeguard First Aid CPR & Oxygen -- American Red Cross; Eagle Scout -- Boy Scouts of America
What are your hobbies?
When I am not picking up a video camera, I enjoy a lot of outdoor activities. I am a fan of camping, diving, deep-sea fishing, biking, and pilates. For me, being active is the key to feeling young.
What advice would you give to someone who wants to have a career like yours?
If you want to be involved with anything involving video, the best skill to have is the ability to face adversity. We learn often learn best from our mistakes. The reaction you have in the face of adversity could mean the difference between success in failure. If you fail, the best thing to do is stand up and try again.
How did you get involved with the Nautilus Exploration Program? How did you get on the ship?
I attended the National Phi Theta Kappa Honor Society Conference in 2014 and Dr. Robert Ballard was one of the special guest speakers at the conference. The minute he discussed the Nautilus Exploration Program and the video engineering side of the program, all of my classmates looked towards me and I knew I was hooked. 
Expeditions
Nathaniel participated in the following Ocean Exploration Trust expeditions: