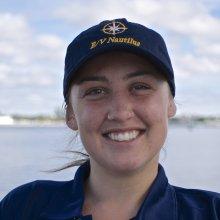 Natasha Ewing
ONC Educator
Education Coordinator
Ocean Networks Canada
Natasha Ewing graduated from UVic in Biology and Ocean Science in 2011 and shows her passion for the ocean not only in her academic life but also in her personal and professional life. Natasha thoroughly enjoys being at the forefront of public education and engagement, increasing public awareness of current environmental concerns, research and solutions. Natasha has been in a variety of informal educator roles, including The BC Ministry of Environment and World Fisheries Trust.

Combining her passions for education and the marine ecosystem she was led directly to ONC, where she now encourages K-12 teachers to incorporate hands-on experiential ocean science into the curriculum. Natasha's goal is to increase the ocean literacy of Canada's youth, and inspire the next generation of ocean stewards.Natasha hopes to continue in this field and is currently pursuing her Masters in Environmental Education and Communications.
Natasha Ewing graduated from the University of Victoria in 2011 with a Bachelors of Science in Biology and Ocean Science. She is now currently pursuing her masters in Environmental Education and Communications at Royal Roads.