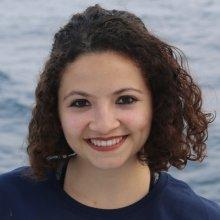 Natali Chavez
Science/Data Team
Undergraduate
California State University, Channel Islands
Tell us about your work / research. What kinds of things do you do?
A research project I was working on was genetic botany. Our research was to find the genetic diversity of the local giant cane Arundo donax. We collected Arundo donax specimens from the Santa Clara River to test their genetic mutations within the asexual species. The Arundo donax is considered a weed to many farmers; however, it is vastly used to in different air instruments and fuel. If we try to clear our some of the canes with chemicals the whole species could be whipped out if they are genetically the same. The genetic difference will provide discovery of the cane's genetics. Thus, we can uncover their adaptations to changing conditions and efforts to eradicate the plant.
What sparked your initial interest in your career?
My first research experience has shaped my career goals by exposing me to various areas of science. Through this opportunity with the Smithsonian, I have realized I absolutely wanted to continue a career in STEM.
Who influenced you or encouraged you the most?
My two research advisors Dr. Nicholson and Dr. Harber have always introduced me to new opportunities in science and have supported me through every research application.
What element of your work / study do you think is the most fascinating?
The most captivating thing I have done is doing field work catching American bullfrogs from Leach pond to extract their DNA. The extraction was to check for the absence of the amphibian fungus, Batrachochytrium dendrobatidis, that is responsible for an emerging infectious disease that is causing global amphibian decline. For another research project, I had to also swim out into the Pacific Ocean to the kelp forest to gather specimens. Lastly, I traveled to the Channel Islands to conduct research on the Torrey pines on the Santa Rosa Island and study the Fibonacci sequence on their pine cones. Personally, I find lab and field work truly fascinating.
What other jobs led you to your current career?
My previous research experiences have shaped and altered my ultimate goal. I am currently starting my senior year this Fall 2017 as an undergraduate majoring in Biology and double minoring in Physics and Chemistry. 
What are your degrees and certifications?
AA in Natural Science and general studies, Basic Life Support certified (BLS)
What are your hobbies?
I enjoy hiking and running at the beach and mountains      
What advice would you give to someone who wants to have a career likes yours?
For a career like mine majoring in Biology and double minoring in Physics and Chemistry, I would say do not be afraid of the hard classes, because those might be the ones that inspire you the most. My first year in community college I met with a counselor to map out my classes and he said that if his niece couldn't make it as a biology major because of the chemistry classes then neither could I, and he switched my major to liberal arts. I stayed persistent to my goal to stay in STEM and will be graduating in spring 2018. Do not ever let anyone tell you that your dream career cannot be reached. Stay in STEM, Science Technology Engineering and Mathematics and stay strong through the journey. 
How did you get involved with the Nautilus Exploration Program? How did you get on the ship?
This summer I was going to conduct research at the Arctic Archipelago through the Northwest Passage Project. Unfortunately, the expedition was postponed for next summer. Fortunately, the researchers in charge of the Northwest Passage Project retained my information and forwarded it to the Nautilus Exploration Program. From then on I was introduced to the exploration that was going to be conducted and was immediately interested.