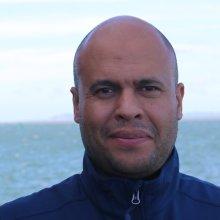 Mohamad Elsaied
Navigator, Mapper
Graduate Student
University of New Hampshire
Tell us about your work / research. What kinds of things do you do?
About 71% of the Earth's surface is covered with water and the oceans hold about 96.5% of all the Earth's water. This reality has made me very interested in the marine environment. Dominant ocean features indicate much of the Earth's history. However, if we want to know the present, we should study the past. Oceans also contain a substantial amount of resources and wealth. In order for us to protect ourselves from the natural hazards, we must understand and be more concerned about the oceans. I have participated in several research projects related to seabed classification, seafloor mapping, sea level rise and climate change including its impacts on coastal hydrodynamics. I also took part in inundation forecasts and warnings, methane seep research, hydrothermal activity study, resources exploration, marine environment assessment and conservation planning. The outputs were used to support decision makers as well as the community for sustainable management. I had a recent training at the National Center for Environment Information in Colorado, USA about digital elevation model and tsunami hazard. Currently, I am participating in ocean engineering graduate program that focuses on significant aspects of coastal and ocean mapping. During my Ph.D. studies, I was able to evaluate offshore reservoir characteristics through integrating existing well log and seismic data with limited data and budget. The aim of my master's thesis was to conduct a comparative study between the seabed characteristics of Alexandria's eastern and western harbors at the Egyptian Mediterranean coast. I was able to explore the seabed, conduct marine environment assessment and habitat mapping. I also taught courses relative to hydrography, geology, and geophysics at the university.
What sparked your initial interest in your career?
I grew up in a coastal city which had a major influence on my personality and thinking. Among the many questions I was always curious about is: How was the earth formed? How did the marine system begin and develop? What is underneath the water? What controls the ocean? This curiosity on how little we know about the ocean gave me the motivation to engage in marine science. Majority of the oceans still remain undiscovered, which only means that there are still breakthroughs waiting to be unearthed. I prefer choosing a challenging career where there are no bounds for creativity and limitless possibilities for new ideas.
Who influenced you or encouraged you the most?
When I was an undergraduate student, I had my first course in marine geology. My professor noticed that I possess the perfect set of skills to innovate in this field while having the passion to keep learning. He talked to me more about marine science even if it was out of the syllabus. Gradually, he then started to encourage me to stay in this field and told me how much he felt that I will have a remarkable contribution someday.
What element of your work / study do you think is the most fascinating?
During my master's study, I discovered pieces of Roman archaeology underneath the waters of the Egyptian Mediterranean coast at the site of the sunken old Alexandria Bibliotheca. Furthermore, in my Ph.D. study, I explored a new site of hydrocarbon resources in Western Delta Deep Marine at the Mediterranean Sea. Every time I initiate a marine research, the unexplainable feeling of excitement of what I could find is truly amazing. I also find teaching and writing as equally fascinating skills. Through teaching, I am able to transfer my knowledge, while writing allows me to leave a legacy in which the next generation can continue what I have started.
What other jobs led you to your current career?
I had a gold mine exploration geologist job before. I also have a dive master license. Later I got the opportunity to become an ocean mapper, which led me to leave the boring stable life onshore and enjoy unstable conditions of life offshore with the waves and seasickness. The exploration techniques and basic theory are the same on land and at sea, but the ocean is definitely more adventurous and mysterious. It is this thrill in a job that always appeals to me.
What are your degrees and certifications?
Ocean Engineering Graduate Certificate, Category A Course in Hydrography, University of New Hampshire 2017
Ph.D. in Geoscience, University of Al-Azhar, Egypt 2014
Master of Science in Geoscience, University of Alexandria, Egypt 2011
Post-Graduate Diploma in Geoscience, University of Alexandria 2007
Bachelor of Science in Geosciences, University of Al-Azhar 2005
Leader, Egyptian Sea Scout, Underwater Photographer License, Emergency First Response License, Dive Master License, International Computer Driving License (ICDL)
What are your hobbies?
I enjoy mountain hiking, biking, diving, swimming, safari, camping, reading, cooking, listening to music and mostly physical fitness activities.
What advice would you give to someone who wants to have a career like yours?
For someone who wants to have a career as an ocean mapper like me, my advice is to free your imagination. Expect anything to happen and expect even more of the unexpected. It is important to have an open and receptive mind to allow a 360-view of the whole subject including the background, in order to complete the whole picture. This will let you achieve your job efficiently while enjoying the ocean as your playground.
How did you get involved with the Nautilus Exploration Program? How did you get on the ship?
I have previously attended a presentation about the Nautilus Exploration Program achievement by Dr. Nicole Raineault, Vice President of Exploration and Science Operations. I admire what they do and how significant their accomplishments are. I then applied to participate in the next expedition.