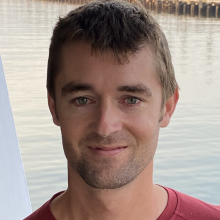 Miles Ochs
NUI Team
Research Engineer
Woods Hole Oceanographic Institution
Tell us about your work/research. What kinds of things do you do?
I am a mechanical design engineer working primarily in instrument design, undersea communication systems, and various other systems used in ocean science.
What sparked your initial interest in your career?
I got into engineering in ocean science through a passion for being out on the water and working towards solving the hard problems that the ocean throws at us.
Who influenced you or encouraged you the most?
My early mentors and advisors at WHOI gave me the foundation on which I have built my career so far on.
What element of your work/study do you think is the most fascinating?
I love all the brilliant people I get to interact with every single day. From the highly skilled technicians and operations specialists to the outstanding scientists leading their fields, this is an amazing community to be a part of.
What other jobs led you to your current career?
I used to work on commercial fishing boats and through that, I fell in love with being on the water and got into the marine science world as a result.
What are your degrees and certifications?
Bachelor of Science in Mechanical Engineering from University of Maine, 2014
What are your hobbies?
Fishing, Sailing, Hiking, Mountain Biking
How did you get involved with the Ocean Exploration Trust?
I work at Woods Hole Oceanographic and my involvement with an ongoing ROV project that will be sailing on the E/V Nautilus has given me the opportunity to work aboard the ship representing WHOI.
What advice would you give someone who wants to have a career like yours?
Find your passions, seek out people that you can learn from, and surround yourself with those people.
Expeditions
Miles participated in the following Ocean Exploration Trust expeditions: