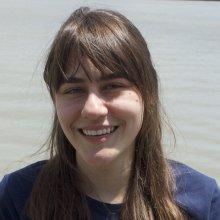 Michelle Hauer
Science/Data Team
Graduate Student
University of Rhode Island - Graduate School of Oceanography
Tell us about your work/research. What kinds of things do you do?
My research primarily focuses on the microbial ecology of hydrothermal vents, but extends into other chemosynthetic environments (i.e., environments where organisms sustain themselves on chemical energy as opposed to light energy). Despite conditions normally considered too toxic for animal life, hydrothermal vents are able to support complex ecosystems and immense animal biomass due to the chemosynthetic microbes that live symbiotically with their host animals. I use molecular and physiological tools to better understand these fascinating host-microbe symbioses.
What sparked your initial interest in your career?
When I first learned about the deep sea, I immediately began dreaming of diving to the deep in a submersible. I became enamored by the mysteries of the deep ocean, began reading more about deep-sea science, and started following live ROV dives. However, my particular love for hydrothermal vents came when I learned about chemosynthesis, about the symbioses that were responsible for the immense animal biomass found at hydrothermal vents, and about the theories regarding the origins of life at hydrothermal vents, all of which really inspired me scientifically and philosophically.
Who influenced you or encouraged you the most?
My mentors in college and at some of my internships were very supportive. And, of course, David Attenborough was a huge influence!
What element of your work/study do you think is the most fascinating?
For me, hydrothermal vents inspire curiosity in areas of ecology, astrobiology and the origins of life, making it a field that uniquely engages the impulse to understand the world scientifically, philosophically, as well as to explore the unknown.
What other jobs led you to your current career?
In college and during my gap years before graduate school, I intentionally dabbled in a number of different ecological fields, from marine mammal conservation to tropical bird ecology. However, one of the most formative experiences includes my time as a Project Manager for Chicago Wildsounds (CWS), a soundscape ecology organization. I learned a lot about the scientific process, science communication, and the joys of collaboration. Most importantly, it really validated my desire to pursue science as a career. Equally formative was my time at the Smithsonian Environmental Research Center, where I gained an enormous amount of experience and skills in various areas of marine biology, and, more recently, at the Flathead Lake Biological Station as a lab technician in a population and conservation genetics lab.
What are your degrees and certifications?
Bachelor of Arts in Environmental Studies, minor in Art - DePaul University, 2015
Ph.D - Oceanography - University of Rhode Island, Graduate School of Oceanography, expected 2023
PADI Open Water certified
What are your hobbies?
I love rock climbing, backcountry hiking/camping, traveling, and reading. I dabble in music (mainly cello) and in birding/"insecting". I also love Raymond Smullyan's backward chess puzzles!
How did you get involved with the Nautilus Exploration Program?
I am getting involved with the Nautilus Exploration Program as a scientist assisting with and getting trained on the use of an instrument that I will be using for a future cruise.
What advice would you give someone who wants to have a career like yours?
I believe it is important to proactively get involved with many different research projects. This can provide an aspiring scientist with great opportunities to travel, gain skills (e.g., fieldwork, molecular tools, coding), become more well-rounded in science, and to get a better sense of what type(s) of research they really want - or don't want - to pursue.