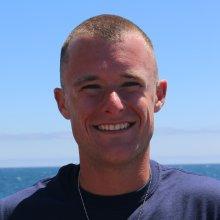 Michael Wegner
Navigation Intern
Midshipman
United States Naval Academy
Tell us about your work / research. What kinds of things do you do?
I am a midshipman at the United States Naval Academy, studying Oceanography. I am currently finishing my second of four years here, and upon graduation, I will be commissioned as an Ensign in the United States Navy. I love life at the Academy and all of the amazing opportunities that this place affords. Oceanography is the best major here. I am learning a wide range of fundamental Oceanographic concepts, taught by inspirational teachers who are passionate about their fields. 
What sparked your initial interest in your career?
When I was seven years old, my parents took my brother and me on a sixty-mile backpacking trip in the Sierra Nevada Mountains. Every summer after that, we went on longer and more adventurous trips. During the year, we would spend time in the woods - canoeing, hiking, rock climbing, and enjoying the outdoors. I fell in love with nature and all of its beauty and mystery. One summer, my grandad took me scuba diving in California and I was absolutely blown away by the beauty of the underwater world. To be able to study Oceanography and to pursue a career that helps me to learn more about my passion and love for nature is a dream come true.
Who influenced you or encouraged you the most?
My family has always encouraged me to follow my passion, to think critically, and to take the time to be thankful for the gifts in my life. They gave me the confidence and perspective to follow my heart. My girlfriend, Mary Beth, who is currently studying Chemical Engineering at the University of Notre Dame, has from the moment we met encouraged me to be a servant leader, to love others, to learn as much as I can, and to always strive for excellence. I am thankful beyond words for these amazing people. 
What element of your work / study do you think is the most fascinating?
The most fascinating thing about being a midshipman is getting to meet people from all different walks of life, who have come together to serve as one. In the Oceanography department, we have officers who have amazing careers in the Navy, teachers who are working on independent research, and scientists who are passionate about their work. Hearing their stories and learning from their experiences and vast knowledge is always exciting. In my studies in Oceanography, I have found climate change to be very fascinating. I am also very excited to take a Nearshore Oceanography elective next semester. With each new Oceanography class I take, the more excited I become about the field. 
What other jobs led you to your current career?
Being a midshipman here at the Naval Academy is my first job, but I have had many experiences that have opened doors to this amazing place. In middle school, I was a competitive runner and I broke the national record for 14-year-olds in the 5000m track race. This led to my recruitment and scholarship to attend Loyola Blakefield High School, a Jesuit school in Maryland. Here, I learned vital time management skills and I gained an academic and moral foundation that paved the way to the Naval Academy.
What are your degrees and certifications?
Certified PADI Open Water Scuba Diver, Certified NFS Wilderness Guide  
What are your hobbies?
I love running, canoeing, hiking, swimming, painting, playing the violin, going on adventures, and traveling. Anything outdoors makes my heart beat faster, and I love nature!
What advice would you give to someone who wants to have a career like yours?
To anyone who wants to become a Naval Academy midshipmen, I offer this: do what makes you excited. Be humble. Seek advice from wise mentors. Make close friends, and always be faithful to them. Above all, keep your honor and be genuine. Everything else - the physical and academic requirements, the personality traits, and the moral tests – these will fall into place naturally if you are passionate about what you're doing and if you truly care about those around you. 
How did you get involved with the Nautilus Exploration Program? How did you get on the ship?
I first heard about the Nautilus Exploration Program in high school, while I was on a plane to California for one of my family's summer adventures, a 1000 mile trek along the Sierra Nevadas. My parents, by coincidence, sat beside Captain Petruncio, the head of the Oceanography Department at USNA. The event sparked me to begin researching oceanography and, two years later, I met Dr. Ballard at a brief here at the Academy! I am so thankful that I decided to apply for the program because Dr. Ballard's stories and experiences inspired me to commit to becoming an Oceanographer through the Academy's program. The idea of merging a desire for adventure, exploration, and discovery with the scientific method in the realm of the nautical intrigues me to my core. 
Expeditions
Michael participated in the following Ocean Exploration Trust expeditions: