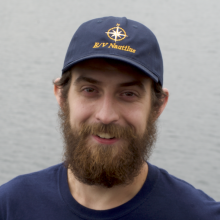 Michael Viveiros
Documentarian
Freelance Video Editor
Tell us about your work/research. What kinds of things do you do?
I am a Documentarian focused on exploring dynamic communities, localities, and lifestyles that are under-disseminated in existing media. My primary goal is discovering the unknown and pursuing a holistic perspective of its new subjects that can be shared with global audiences to expand their worldview. I find working with video creates an easily accessible option for everyone to gain new information while inspiring an emotional connection and intellectual stimulation. 
What sparked your initial interest in your career?
When I was a young boy I had been observing photographs covering the vast ecosystems of the Earth. One image of a Deep Jungle, so alien in comparison to the cities of man, caught my attention. I realized for me to be exposed to such an otherworldly perspective, someone had to take the photo and share it with the world. I began to imagine the photographer as a part of every scene, like having a larger image. I wanted to grow up to be like that photographer so that I could share visuals that would inspire others to seek out the hidden beauty of our world.
Who influenced you or encouraged you the most?
My family has always been supportive in guiding me to work with film from a very young age, Later in life, the team at Nantucket Community Television created the foundation of my education and launched my career in Documentary Filmmaking.
What element of your work/study do you think is the most fascinating?
I find that the most fascinating aspect of documentary filmmaking is being constantly exposed to new ideas and new worlds. They can range from stories in the life of new nations, buried deep within the catalogs of archival libraries or actively exploring an unmapped location, eyes absorbing every new detail while transfixed in a state of wonder.
What other jobs led you to your current career?
I have been lucky to collaborate with many great causes in the past that have brought me to work with the Nautilus today. Some of the earlier projects I've helped with included making short films to help non-profits create community farming institutes, and sustainable off-shore fishing, developing advertising and fundraisers for small businesses to expand where their services were available.
What are your degrees and certifications?
NAUI Open Water Certification - 2014
What are your hobbies?
I've done parkour for over a decade, one year doing it every single day. I also enjoy rock climbing and gymnastics, the occasional scuba dive or spelunking expedition, cooking vegan meals and reading educational materials.
What advice would you give someone who wants to have a career like yours?
For anyone that wants to be an explorer, documentarian, or any other dream. The best advice I can give is to actively pursue what you want to do. Fill all of your spare moments with your passion and keep your mind open to any opportunities that will let you envelope yourself in the type of profession you want to pursue. Also, have fun with it!
How did you get involved with the Nautilus Exploration Program? How did you get on the ship?
I originally became involved with the Nautilus Exploration Program 3 years ago by chance. I heard about an open position from a fellow filmmaker I was interning with at the time. I am being sent on the ship to capture the moments of discovery at sea and share them with our explorers on land to inspire a deeper sense of wonder.
Expeditions
Michael participated in the following Ocean Exploration Trust expeditions: