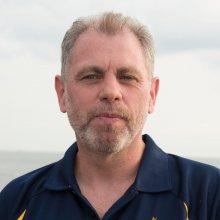 Michael Brunt
Science Communication Fellow
Environmental Science Teacher
Eagle Pass High School
Michael Brunt teaches AP Environmental Science and Environmental Systems at Eagle Pass High School in Texas. Michael is investigating natural gas seeps in the Gulf of Mexico with the Gulf Integrated Spill Response Consortium Expedition. Michael has been extensively involved in the development and writing of Earth & Space Science curriculum and has worked in collaboration with The University of Texas in Austin Institute for Geophysics doing seismological research concerning induced earthquakes resulting in the joint-authoring of three separate publications in peer-reviewed scientific journals.
Michael Brunt has a Master of Education degree in science education from Sul Ross State University-Rio Grande College and received his Bachelor degree from Western Illinois University in 1998.
"I have always had a fascination towards ocean research and exploration with hopes to someday be part of an ocean expedition. I think the Ocean Exploration Trust is on the forefront of ocean research and discovery, and I am thrilled to be given the opportunity to be part of the team aboard the Nautilus!"
Expeditions
Michael participated in the following Ocean Exploration Trust expeditions: