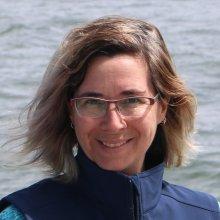 Melissa Poe
Science/Data Team
Environmental Anthropologist
Washington Sea Grant, University of Washington and NOAA Northwest Fisheries Science Center
Tell us about your work / research. What kinds of things do you do?
I specialize in the social and cultural dimensions of marine systems and use this information to improve ecosystem based management. Oceans and the organisms at home there are important to people for their livelihoods and cultural practices. Decisions about marine management may entail trade-offs and the information that I collect by interviewing and surveying people about their ocean uses, values, heritage and identities can help assess social and cultural outcomes. I am grateful to work in the Pacific Northwest and hear many stories from coastal tribes and other commercial fishing communities about why and how they value the ocean, and how environmental changes affect these important resources. 
What sparked your initial interest in your career?
I started out in environmental anthropology because I was interested in the interactions between humans and nature. My studies started in the dry farmlands of Honduras and have since taken to me the high forested mountains of Mexico, fire-adapted landscapes of the West, urban wilds of Seattle, salty shores of Puget Sound, the remote archipelago of Haida Gwaii, to the rugged coastline of Washington. In each of these places, access to healthy ecosystems is essential for people's ways of life. Changing oceans owing to warming seas, lowering pH, altered coastlines, and other phenomena are making the communities who depend on the ocean more vulnerable. These changes and future uncertainties motivate me to collaborate with communities to better understand the risks to their health and well-being, and to identify assets and capacities that improve community resilience. 
Who influenced you or encouraged you the most?
All along the way, my teachers have encouraged me to listen generously to the stories of others, to identify patterns that underlay their concerns and hopes, and to be engaged in seeking solutions based on these experiences.
What element of your work / study do you think is the most fascinating?
Increasingly, we recognize the interconnectedness between people and nature. I am fascinated by bio cultural landscapes that show this unity. For example, clam gardens are intertidal features built and maintained by Northwest coastal people that enhance the biological productivity of shellfish. Shell middens found upland have benefitted forest ecosystems. The use of anthropogenic fire maintains open meadows with important food and medicinal plants that also support diverse insects and birds. I'm interested in diverse approaches of human stewardship to nature. 
What other jobs led you to your current career?
I was a wilderness guide, leading sea kayaking and coastal backpacking trips in the region. In addition to outdoor skills, I would share with our clients about the natural and cultural histories of the Pacific Northwest. Ecotourism was rewarding, but I wanted to dig in much deeper to the social and cultural dimensions of conservation and management. I started my graduate studies about 17 years ago at the University of Washington. I focused my Ph.D. dissertation on harvest and management of wild edible mushrooms. I've worked at the USDA Forest Service, as well as a non-profit applied research organization called the Institute for Culture and Ecology, and now I am the social science liaison for Washington Sea Grant and NOAA Northwest Fisheries Science Center.
What are your degrees and certifications?
Bachelor of Arts in Sociology and Spanish -- Whitworth University 1992; Masters of Art in Environmental Anthropology -- University of Washington 2004; and Doctor of Philosophy in Environmental Anthropology -- University of Washington 2009.
What are your hobbies?
I love hiking in the mountains and foraging for wild foods like berries and clams. Living in the city offers amazing opportunities to enjoy the arts and diverse community activities. 
What advice would you give to someone who wants to have a career like yours?
Listen respectfully to the stories of other people; if you are curious about the values, ethics, hopes, and struggles of people start taking classes in the social sciences. Social sciences like anthropology, geography, and sociology have elements that are both quantitative and qualitative. Try out all the tools. These tools can be joined with others like biology, economics, math, and art to shed new light on our collective challenges. 
How did you get involved with the Nautilus Exploration Program? How did you get on the ship?
I am collaborating with the Quinault Indian Nation and NOAA's Olympic Coast National Marine Sanctuary and others to understand the social-ecological vulnerabilities of ocean acidification and ocean change. We are together on the Nautilus Exploration program as a complement to our ongoing research. As an employee of Washington Sea Grant and NOAA, I am thrilled with this opportunity to share our science with a broader community of people who love the ocean.