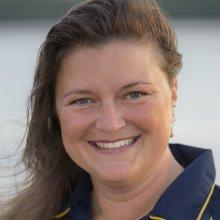 Melissa Baffa
Science Communication Fellow
Development Officer, Foundation & Corporate Relations
Santa Barbara Museum of Natural History
Tell us about your work/research? What kinds of things do you do?
I am the development officer in charge of foundation and corporate relations (grants and sponsorships) at the Santa Barbara Museum of Natural History, and I am part of a robust development team that actively cultivates and stewards donors and supporters of the Museum. As a development officer, I get to help collect and tell the stories that come out of our 102-year-old organization. As a storyteller and writer by nature, this is exciting and often challenging work, especially within the constraints of deadlines and word counts!
What sparked your initial interest in your career?
I am a biologist and have served as an educator in one capacity or another for nearly all my career. I always knew I wanted to be a teacher, but I discovered my love for biology when one of my high school teachers brought in a live plankton sample for us to explore. Once I looked in the microscope and saw tiny organisms squirming and swimming around, I was enthralled, and decided to study biology in college. After spending a number of years teaching in a formal setting, I made the leap to the nonprofit sector, and I really enjoy informal learning environments. My current position with the Santa Barbara Museum of Natural History allows me to help inspire a love for nature, support education, and put my skills as a writer and relationship builder to work raising funds for an awesome institution.
Who influenced you or encouraged you the most?
I have a number of people who have influenced me: my parents, who always took us to the beach, and hiking and camping growing up, and instilled a deep love of nature that is at the core of my being; my teachers, who recognized that I was inquisitive and academically gifted, and encouraged me to work hard and pursue my dreams; and my colleagues in the nonprofit, for-profit, and public sectors, who support my efforts in the nonprofit community to this day and serve as a continual source of inspiration and support. I also would not be able to participate in this amazing program, or anything I do, without the support of my family - I am encouraged and inspired by them every day.
What element of your work/study do you think is the most fascinating?
Our Museum has the tagline "Naturally Different" for a reason. Most natural history museums are found within the confines of a city, but our two campuses are set within nature! As a result, we can offer a bridge for our visitors to the natural environment, and we are part of a network of organizations working to combat a phenomenon called "nature deficit disorder." This is the disturbing and growing disconnection between people, especially children, and nature. Not only can this disconnection cause serious health and psychological problems for those who fail to spend time in nature, it may pose grave problems for the future of our planet and our species. Countless studies have shown that time spent in nature increases a person's understanding of and appreciation for biodiversity – how can we expect the next generation of stewards for our environment to care if they do not have a personal connection with nature?
Another thing that our Museum does is it holds an invaluable collection of more than 3.5 million items for preservation and study. These collections are important in that they help to tell the story of our natural environment not just in a certain place, but across time. These specimens help to answer the questions being posed by scientists today and are held in trust for future generations. We don't know what technological advances will occur in the future, nor do we know what questions the scientists of the future may be asking. But we know that if we do a good job protecting these collections, we may be able to contribute to science for a long, long time. Though my work is a step removed from the preservation and study of our collections and the hands-on educational programming that we offer, I am thrilled to help fundraise for this important cause and to be a part of such a solid, highly-regarded institution.
What other jobs led you to your current career?
Straight out of college, I worked in a lab at a major biotech firm, and quickly figured out it was not for me. Everyone thought I was crazy to take a huge pay cut and go into teaching, but teaching was what I had always wanted to do. I taught both high school and middle school science before leaving the classroom to pursue a career in nonprofit management. I have served as the executive director of a children's museum and a nonprofit affiliated with our local State Parks and was in charge of program and volunteer services at the Girl Scouts of California's Central Coast before joining the Santa Barbara Museum of Natural History in 2016. I am also very involved in my community where it comes to leadership; I sit on two boards, an advisory board, and a steering committee for organizations dedicated to leadership and improving the quality of life in our community. Participating in the Nautilus program has helped me to stretch my "writing muscles" and has allowed me to perform even greater outreach into my community than was possible before. This has also helped me to develop my public speaking and leadership skills. Through it all, I have found that I really like trying things that scare me. I have realized that the most growth occurs in the space between "I feel safe and comfortable" and "oh my gosh, I can't believe I did that!"
What are your degrees and certifications?
Bachelor of Science in Biology - California Lutheran University 1995, single subject teaching credential - California State University, Northridge 2001
What are your hobbies?
I love being outdoors, especially when I am able to create photographic images and other forms of art, or work in our extensive garden at home, or just plain hike or swim or kayak and explore the beautiful region I call home. When I'm not outdoors, I can often be found writing, hanging out with my family, or creating something (like art, fabric projects, jewelry, etc), or volunteering for one of the organizations that work to improve the quality of life in our region.
What advice would you give to someone who wants to have a career like yours?
Relationships are the key to success in the nonprofit realm. It is vital for a nonprofit professional to cultivate and nurture relationships throughout the community, and to be involved in a number of organizations, projects, and efforts across various fields. One has to be always learning, growing, and following the news; you have to be able to connect the dots and understand how the various critical issues in your community are connected, and who the key players are that can effect change. Additionally, a personal effort to cultivate a mindset of abundance, positivity, and gratitude will help you to weather the storms of the nonprofit sector and to recognize the opportunities cloaked within challenges.
How did you get involved in the Nautilus Exploration Program? How did you get on the ship?
An email announcing the program was forwarded to me, in a somewhat mistaken fashion (my supervisor at the time misread it and sent it to me for a different purpose). When I read it carefully, I got extremely excited about the opportunity, but the deadline to apply was only two days away. So I scrambled to get approval to apply from the leadership at Girl Scouts, and approval from my husband (since I could potentially be gone for several weeks), to line up letters of recommendation and get it all submitted in time. It was a very serendipitous experience, and very hectic. I was a little scared to apply, because I had never done something like this before, and I wasn't completely sure if I was worthy of it. But once I was selected, and went out on my first expedition last year, I found reserves of strength and talent I did not know I had. The growth I experienced was tremendous. As a result, I leaped at the opportunity to return as a Lead Science Communication Fellow in 2016 and again in 2018.
"Oceans occupy more of the Earth's surface than land, and are vital to our planet and all of its living things. Yet we know so little about them! I am thrilled to participate in the investigation and discovery of this precious, and yet vastly unknown place."
Expeditions
Melissa participated in the following Ocean Exploration Trust expeditions: