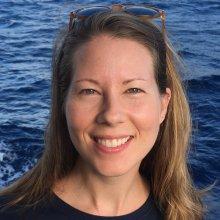 Megan Lickliter-Mundon
Co-Investigator Ashore
Archaeologist
Defense POW/MIA Accounting Agency
Megan Lickliter-Mundon is an archaeologist and museum professional with a broad range of experience in the heritage sector. During the course of her archaeological career, Megan has directed or participated in terrestrial and underwater projects in the US, UK, Mediterranean, and the South Pacific. Prior to returning to graduate studies for her PhD she was the director of a local aviation history museum housed in a historic air terminal. Her studies with the Nautical Archaeology Program at Texas A&M University specialized in deepwater and aviation archaeology, conservation studies, museum studies, and heritage preservation.
Megan's current projects involve diver-integrated ROV wreck site survey, digital site mapping and photomosaic, aluminum conservation research and experimentation, and 3D modeling heritage objects.
Megan graduated from University of Georgia in 2003 with a BA in Anthropology and received an MSc in Archaeology from the University of Edinburgh in 2005. She received her PhD from Texas A&M University in the Nautical Archaeology Program, where she focused on underwater aviation archaeology.
"I'm so excited to a part of the team aboard Nautilus and get the chance to explore places that so few get to see!"
Expeditions
Megan participated in the following Ocean Exploration Trust expeditions: