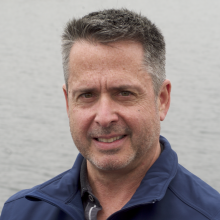 Maurice Doucet
Science/Data Team, Data Engineer
Chief of Software Research
QPS Inc.
Tell us about your work/research. What kinds of things do you do?
I specialize in creating usable and useful tools for the Hydrographic industry. I have created a number of commercial hydrographic processing applications to process seismic, multi-beam, side-scan, backscatter and water column data from a variety of sonars and systems. My specialty is multi-dimensional big-data visualization and optimized user experiences and workflows. My goal is to turn data into information as rapidly as possible so that scientists can make better-informed decisions in a timely manner.
What sparked your initial interest in your career?
My first job as a computer science graduate was working with the flying quality analysis of the digital flight control system of the F-16. I saw aeronautical engineers reading reams of printed flight telemetry to try to mentally replay the flight characteristics of the F-16 during "departed" flight. I took the binary versions of that data and created wireframe models of the aircraft for playback in real-time on a Z-80 desktop computer. This early "data visualization" launched my career and specialization of leveraging 2D/3D/4D graphics to enhance scientific discovery.
Who influenced you or encouraged you the most?
I worked with a German exchange engineer on the F-16 team early in my career and his advice was this. "If you have a talent for creating useful software tools, and you couple that talent with knowledge of a specific scientific domain, you will have a very rewarding career and never lack for work." That has stuck with me throughout my 30-year career and I have always sought out and teamed with domain experts in every field where I have created commercial software products.
What element of your work/study do you think is the most fascinating?
I'm fascinated by seeing products I've worked on in actual use in the field. Many times I will be surprised in the ways people use our products. Ways that I may have never anticipated. Learning these novel workflows helps me make better products. Getting direct feedback, in the field, from actual users, is an invaluable experience.
What other jobs led you to your current career?
I was a co-founder of a company during the VR explosion of the 1990s. We were building immersive simulation systems for the military and then spun off commercial products for VR toolkits and a data visualization product for the financial markets. We marketed the first commercial use of VR technology on the desktop that was used for multi-dimensional analysis of stock and futures trading. This transformed my career from one that previously required the "big-hardware" of the defense industry to desktop visualization products for the masses.
What are your degrees and certifications?
Bachelor of Science in Computer Science, Chapman University, 1986.
What are your hobbies?
I enjoy hiking, biking, kayaking, snorkeling and horseback riding (English). I also enjoy having nerdy discussions with my wife on a range of scientific topics.
What advice would you give someone who wants to have a career like yours?
Get a B.S. degree in computer science, seek out an industry that you enjoy, then partner with experts in that field so that you can learn the problems they are trying to solve. Then you can use the tools at your disposal to create novel software tools to solve those problems. Most of all, enjoy what you do and it will repay you with a wonderful career.
How did you get involved with the Nautilus Exploration Program? How did you get on the ship?
I've been connected to the folks working on the Nautilus Exploration Program and they use some of our tools during mapping exercises.
Expeditions
Maurice participated in the following Ocean Exploration Trust expeditions: