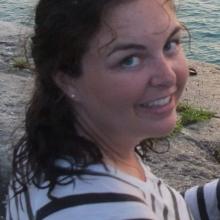 Maureen Merrigan
Archaeologist
Texas A&M University
Maureen works as one of the Data Loggers aboard the E/V Nautilus.
Maureen Merrigan is a graduate student in the Nautical Archaeology Program at Texas A&M University. She is working towards her MA examining the exchange of religion and goods in ancient Athens. Outside of her thesis work, Maureen is interested in the conservation of archaeological materials. She has worked at Texas A&M's Conservation Research Laboratory for the past year and a half, conserving artifacts from both underwater and land sites.
Maureen has excavated a variety of archaeological sites both in the Mediterranean and elsewhere. This summer she worked on the Warwick Project, excavating the remains of a 17th century merchant ship in Bermuda's Castle Harbour. Maureen graduated from Boston University in 2008 with a degree in archaeology and is currently a masters student enrolled at Texas A&M.