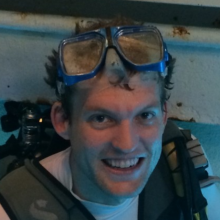 Matthew Miller
Science/Data Team
Exploration Research Engineer
Jacobs/NASA Johnson Space Center
Tell us about your work/research. What kinds of things do you do?
I specialize in the application of cognitive systems engineering methods to understand and develop the work practices and technologies for the advancement of future human space exploration missions. In particular, I research the scientific process involved in planetary science objectives and integrate the needs and expectations of those processes within future missions by working closely with planetary scientists and NASA engineering and operations experts. I spend a majority of my time generating human subject studies within various NASA laboratories as well as support NASA field analog research programs, such as SUBSEA.
What sparked your initial interest in your career?
I was a space cadet for as long as I can remember and always wanted to support human spaceflight. After completing my undergraduate and master's degrees in aerospace engineering, I applied to and was awarded the NASA Space Technology Research Fellowship to complete my PhD in aerospace engineering with a specific emphasis on studying and building decision support systems for present-day International Space Station (ISS) spacewalks. This fellowship allowed me to build the portfolio of research skills necessary to transition my thesis work into a full-time position.
Who influenced you or encouraged you the most?
My parents instilled in me a work ethic to achieve my goals. Thanks to their sacrifices and dedication to raising me and my two younger brothers, I am where I am today.
What element of your work/study do you think is the most fascinating?
The ability to accurately predict the work of future astronauts in future missions is an incredibly complex and multi-faceted challenge. This effort, coupled with the challenge of building new technologies to support that future work, keeps me busy every single day.
What other jobs led you to your current career?
My career path has involved many jobs that helped me decide what I ultimately did not want to do in my career. That being said, those prior experiences have helped me become a better engineer and refine my skills in asking the questions that really matter to tackle the problems at hand.
What are your degrees and certifications?
Bachelor of Science, Masters of Science, and Doctor of Philosophy all in Aerospace Engineering - Georgia Institute of Technology (2012, 2014, 2017)
What are your hobbies?
I play recreation tennis in my hometown as well as go to the gym regularly. I also enjoy walking and playing with my two dogs, Argos (German shepherd mix) and Adelaide (Australian Shepherd mix)
How did you get involved with the Nautilus Exploration Program?
I am the Science Operations Co-Lead with the SUBSEA research program which was competitively selected from the NASA Science Mission Directorate PSTAR program. In effect, I helped write a proposal that was selected by NASA to be funded which was a collaborative project with the Ocean Exploration Trust and NOAA.
What advice would you give someone who wants to have a career like yours?
Be willing to ask questions, even if those questions appear to go against the current view of people who are more senior than yourself. It may take some time to build the confidence you need to ask those questions and I found that my confidence grew by building my arguments to justify my questions by finding the source material to back up my line of questioning.