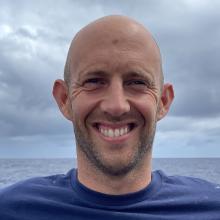 Mathieu Kerjean
DriX Pilot
DriX Pilot
iXblue
Tell us about your work/research. What kinds of things do you do?
I have been working as a Hydrographic Surveyor for 20 years. The main tasks are coastal and offshore mapping & offshore installations such as submarine cables and windfarms.
I am now working with the iXblue Drix Team and it's very exciting to develop a new way of exploring the ocean.
What sparked your initial interest in your career?
I started diving as a kid and my dive instructor was a marine biologist at Ifremer. By their knowledge, he made every single dive interested to me. It made me want to understand and explore the sea
Who influenced you or encouraged you the most?
My teachers at Intechmer and James Cook University influenced me a lot, My parents always encouraged me to follow my path.
What element of your work/study do you think is the most fascinating?
Deep water Coral Reef mapping in the Bay of Biscay, Installing the Northern Submarine Fiber Optic cable on the north slope of Alaska, Studying the Coral Reef of the Great Barrier Reef....
What are your degrees and certifications?
Bachelor of Marine Science -- James Cook University 2007; Diploma of Sea Technician --Intechmer, 2001
What are your hobbies?
WingFoiling, Surfing, Freediving, Cycling