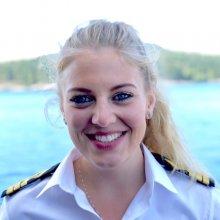 Martyna Graban
Chief Officer
Where are you from?
I am from Gdansk, a city at the north of Poland close to the Baltic Sea.
What languages do you speak?
Beyond my mother language – Polish – I speak English, Russian, and Ukrainian. Very soon I will speak Spanish as I am improving it every day studying with other crew when we have free time.
How long have you sailed on E/V Nautilus?
I joined E/V Nautilus at the beginning of the expedition season in April 2017.
What are your roles and responsibilities aboard E/V Nautilus?
I am the first officer onboard Nautilus (bridge mate / OOW). Additionally, I hold the positions of safety officer and medical officer.  I am responsible for many things including watch keeping, maintenance of safety equipment, conducting safety drills and trainings, safety familiarizations and for keeping the ship in such a safe condition that everybody can feel at home. As medical officer, I am responsible for medical equipment and for first aid treatment if anyone needs it.
What other jobs led to your current career?
To receive my OOW ticket I spent 5 years in University and 1 year of practice as a deck cadet on other ships. I focused on my profession so it is the only job that I have had. I believe it will be the only job in my life as I love what I do and where I am. I am not going to leave Nautilus till I become Captain here so I keep focused and keep working on it!
What are your hobbies?
I love everything what is close to the water! All water activities like sailing, swimming, surfing, diving, wakeboarding. I like also other activities like long-distance hiking and backpacking. I love traveling to unknown places to meet and understand new people and their culture. I love good food (cooking as much as eating ;) )   
My hobby is also my work as I enjoy every task while working, especially on Nautilus, "the most famous and greatest exploration ship"!