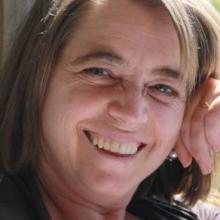 Marina Cunha
Marine Biologist
Universidade de Aveiro
Marina Cunha works as a benthic ecologist onboard the E/V Nautilus.
Marina is currently lecturing courses on Biodiversity, Marine Conservation and Marine Biology and Ecology in the University of Aveiro. She is also curator of the Biological Research Collection of Marine Invertebrates and researcher at CESAM where she leads a team of young scientists
devoted to marine and estuarine studies (http://leme.web.ua.pt/). Marina's research interests in benthic ecology include analysis and interpretation of community data; biodiversity, trophic ecology; connectivity, and crustacean biology. Her early research interests, focused on estuarine and coastal ecosystems, were redirected since 2000 to the study of biodiversity and functioning of bathyal ecosystems.
Marina graduated from Aveiro University in 1986 with a degree in biology and completed her PhD in biology at University of Aveiro in 2000.