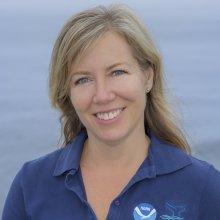 Maria Brown
Science/Data Team
Superintendent
NOAA's Greater Farallones National Marine Sanctuary
Tell us about your work / research. What kinds of things do you do?
I am the Trustee for our nation's Greater Farallones National Marine Sanctuary, an amazing part of the ocean off North-central California. My job is to keep the waters pristine, the wildlife healthy, and understand our connection to these waters. Working with staff and partners, we've increased the survival of harbor seals, restored seabird populations along the coast, reduced humans disturbing and harassing white sharks, and changed shipping lanes to reduce ships striking whales. 
What sparked your initial interest in your career?
I love animals--all animals and wanted to spend my life working to protect animals and their habitats. I have to say spending beautiful, sunny Friday afternoons in the lab looking at animal poop under the microscope didn't excite me. But taking the information from the lab and figuring out where the parasites came from and how to stop the spread of infection, did excite me! I like the challenge of solving the problem.
Who influenced you or encouraged you the most?
Nature programs on television opened my eyes to the wonder and beauty of our natural word and inspired me to work in my field. Who wouldn't want the outdoors to be his/her office?
What element of your work / study do you think is the most fascinating?
The most fascinating element of my job are activities in the field. I have driven a one-person submersible in the sanctuary at night through bioluminescence as well as a remotely operated vehicle (ROV) around the Farallon Islands filming giant sponges and mating shrimp! I've ridden in Coast Guard helicopters to the Farallon Islands, scaled the rocky face of the island, and taken a zip line over an ocean channel to discover the first Northern Fur Seal pup born on the Islands in the last 170 years. I've observed the tagging of white sharks and have marveled at the majesty and grace of the fish that is often feared.
What other jobs led to your current career?
I knew I wanted to work with wildlife. In high school I observed operations at a veterinarian clinic, and learned I wanted to make a bigger impact by saving populations of animals. Instead of veterinarian school, I pursued a degree in Wildlife Management from the University of California at Berkeley. While in college I volunteered at the Oakland Zoo and Sierra Club, and interned at the California Coastal Commission. Through my experiences I learned that I could best protect animals and their habitats by using scientific information to develop and change public policies. After receiving my degree, I worked for the Ocean Conservancy managing the Marine Debris Program on the Pacific Coast. I learned a lot about public policy and working with stakeholders which led me to pursue a Master's degree in Environmental Policy at Tufts University. At Tufts I worked for the Secretariat of University Presidents for a Sustainable Future and the Tufts Environmental Literacy Institute and delved further into creating effective environmental policies through science, education, and stakeholder engagement. After graduating I became the Executive Director of the Farallones Marine Sanctuary Association, a non-profit support organization to the then Gulf of the Farallones National Marine Sanctuary. It was exciting and fun developing education, volunteer, and outreach programs. After 7 years as Executive Director, I realized I could increase my impact by working at the Sanctuary within the federal government to create new policies and regulations. I have been the Superintendent of the Greater Farallones National Marine Sanctuary for 12 years and am excited about the accomplishments we have achieved. Just last year, the sanctuary increased 2.5 folds protecting an addition 2,500 square miles of ocean and coast!
What are your degrees and certifications?
Bachelor of Science in Conservation and Resources Studies with an emphasis on Wildlife Management--University of California, Berkeley 1989; Masters of Arts in Urban and Environmental Policy--Tufts University 1998
What are your hobbies?
I love being outdoors biking, traveling, and exploring the world with my family as well as the challenge of making dairy-free desserts and creating my own recipes.
What advice would you give to someone who wants to have a career like yours?
Pursue your passion! Volunteer and intern at different types of organizations to learn what excites you the most. 
How did you get involved in the Nautilus Exploration Program? How did you get on the ship?
The Nautilus will be exploring the sanctuary I manage. I will be on board to make first-hand observations of never-seen-before habitat in the sanctuary, so I can better understand how to protect the sanctuary.
Expeditions
Maria participated in the following Ocean Exploration Trust expeditions: