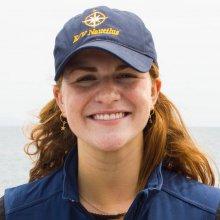 Margaret Esrey
Seafloor Mapping Intern
Undergraduate Student
Duke University
Tell us about your work/research. What kinds of things do you do?
Currently, I am an undergraduate student who is extremely interested in ocean science. As of now, I am not sure what my professional path will be so I am still deciding. My work is a full-time student at Duke University.
What sparked your initial interest in your career?
My passion for the ocean has not always been a love. In fact, it started as a fear. I was scared of the water because I always felt that I was out of my element when swimming in it, surfing, or even snorkeling. My fear stemmed from the fact of believing the ocean was not my home and it did not belong to humans. Because the ocean is still a mystery to us, I was frightened of being in this unpredictable world. However, I started to develop a love for sharks. This interest became overwhelming and so I decided to become scuba certified. After living and sailing a 54-foot catamaran in the British Virgin Island for two weeks, the fear slowly drifted away and a passion was ignited. I loved being underwater and seeing the life below the surface. The way I felt on my first dive is indescribable, but, I knew that I wanted to be underwater for as long as I could. Exploring the ground and just seeing the marine life was incredible and really ignited a light inside of me. A light which I hope to continue to feed and grow throughout my life. The spark came from just being underwater and starting to slowly understand how this new world worked. This is where the interest of my career comes from: the fascination, beauty, wonder, and unknown of the ocean.
Who influenced you or encouraged you the most?
Both my parents encouraged me the most throughout the years. They were instrumental in helping me achieve not only my academic goals but also my personal ones. They have allowed me to explore and take advantage of my passions. 
What element of your work/study do you think is the most fascinating?
I believe the Ocean and Engineering Internship will be the most fascinating and fulfilling element of my work. This opportunity is truly an incredible experience I will value for life and I am so excited to surround myself with a wonderful team of intelligent, experienced, and passionate individuals who care about the ocean and are excited by the new discoveries. 
What other jobs led you to your current career?
I have not had any substantial opportunities or jobs to lead me to my current career. Since I am only a college undergraduate, the jobs I have held prior to this work has been retail jobs or summer internships at foundations. However, even out of the classroom I find myself researching the ocean. My enthusiasm outside of the academic realm of school and class has caused me to expand my knowledge and skill set. This passion and dedication to the ocean have led me to seek opportunities such as this internship. 
What are your hobbies?
I love to ski, scuba dive, hike, horseback ride, run, dance, snowmobile, atv ride, and really any and all activities that are outdoors. My happy place is truly when I am out and about exploring. I used to be a ballerina and played intense field hockey and lacrosse. 
How did you get involved with the Nautilus Exploration Program?
I first heard of the program by watching the live stream on the internet and following the Instagram page. This encouraged me to apply because I was able to see up close what the Exploration Program does. 
What advice would you give someone who wants to have a career like yours?
My advice would be to follow your passion and heart - as cliche as that might sound. However, this is the best advice to live by. I am the happiest when I am doing something that I love. And, at the end of the day, all that matter is if you are happy. If you want a career that involves your passion, do not be afraid to chase after it. Do not second guess yourself because you can constantly surprise yourself if you just go for it. Life is all about taking chances and if you want a career, do not be afraid to take all the chances to chase your dream and passion because, in the end, you will be the happiest knowing you did all you could to achieve your dream career.
Expeditions
Margaret participated in the following Ocean Exploration Trust expeditions: